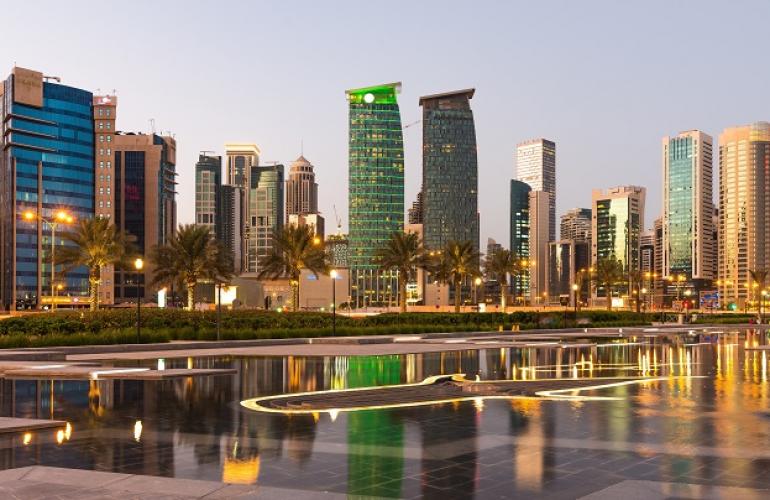 Are you searching for a recruitment company specializing in outsourcing in Doha jobs for the upcoming FIFA World Cup Qatar 2022?
Look no further. This article will serve as your guide to finding the best staffing solution in Qatar to supply you with your required workforce for the biggest tournament to ever happen in the country.
If you need to deploy workers for Qatar 2022 FIFA event, B2C Solutions can provide you with qualified individuals who can work by contract or permanently as per your requirements.
Business to Consumer Services (B2C) saves your company's time and effort by short listing candidates for your urgent manpower needs.
This recruitment firm is proudly 100% Qatari-owned with an ISO 9001: 2015 Certification for Recruitment Services and ISO 27001 certified for Information Security Management.
How B2C can help? Read this article for your reference: Best Outsourcing Service in Qatar for 2022 FIFA World Cup Jobs
The recruitment scheme of B2C Solutions is fast and easy. Here are the 15 steps of the hiring process:
1. Identify the hiring need
They will begin to identify the need within your organization, including filling a vacated position, better managing your team's workload, and expanding the reach of organizational tasks.
2. Devise a Recruitment Plan
Once your hiring need is identified, the recruitment process should begin. B2C can help you in strategizing how to publicize the new position, determining the criteria for initial candidate screening, and administering the interview process.
3. Write a Job Description
A job description is needed as reference for job applicants. This must include a prioritized list of job requirements, special qualifications, desired characteristics, and requisite experience, salary packages, and benefits.
4. Advertise the Job Post
The recruiter in Qatar will help you advertise your job vacancies by utilizing websites, social media platforms, job posting sites like LinkedIn, job fairs, industry publications and events, and word-of-mouth recruitment.

5. Recruit the Candidate for the Position
The hiring staff will reach out directly to the qualified candidates via LinkedIn, social media, and job fairs. Active recruitment will help generate applications from potential candidates who are not actively searching for new jobs but may be perfect for the available position.
6. Review Job Applications
B2C is receiving applications daily via email. It has an applicant tracking system (ATS) and Human Resource representatives who will review the applications and eliminate any candidate who does not meet the minimum requirements for the position or your company's standards.
7. Take Phone Interview/Initial Screening
The recruitment company's HR representatives will make phone calls to shortlisted applicants. Phone interviews will serve as initial screening to determine if the applicant possesses the required qualifications to fill the position and align with your organization's culture and values.
8. Conduct In-person Interviews
An in-person interview refers to the face-to-face meeting of the interviewee with the interviewer. This kind of Interview includes:
• Early interviews - One-on-one, in-person interviews between the applicants and the hiring manager. It will focus on applicants' experience, skills, work history, and availability.
• Additional interviews - This will be done with the management, staff, executives, and other members of the organization. It can be either one-on-one or panel interviews. They may be formal or casual; on-site, off-site, or online via Skype or other digital platforms.
• Final interviews - As the final stage of the hiring process, it often includes conversations with the company's senior management or a more in-depth discussion with an interviewer from an earlier stage in the recruitment process.
9. Perform Applicant Assessment
After or during completing the interviews, the recruiter may assign the candidates with one or more standardized tests. These exams may include the assessment for the applicants' personality traits, problem-solving and reasoning abilities, reading comprehension, emotional intelligence, among others.
10. Carry Out Background Check
From the initial job posting, all candidates are subject to a background check. The purpose of background checks is to review candidates' criminal record, verify employment history and eligibility, and even run credit checks. Many hiring in Qatar companies today also check the applicants' social media accounts (Facebook, Twitter, etc.) to make sure potential employees are likely to represent their organizations in a professional manner. Drug testing may also be required, depending on the position.
11. Make a Decision
The hiring officers will identify their top choice of applicants after conducting background and reference checks. They will then select a backup candidate, in case the first choice declines the offer or negotiations fail to issue a signed offer letter.
12. Crosscheck with References
The recruiter may contact the references shared by the candidates to verify any pertinent information about their previous employment-job performance, experience, responsibilities, workplace conduct, etc.
13. Issue a Job offer
Once a top candidate is selected, the hiring officer will coordinate with your company to extend an initial offer. This includes the position's salary, benefits, paid time off, start date, and other employment terms and conditions.
14. Continue the Hiring Process
Once the candidate accepts the job offer, he/she will fill out paperwork related to his/her employment. This can be processed by the recruiter.
15. Check the Final Onboarding
B2C may assist in the onboarding of your new worker in a welcoming and professional way for a long-term productive relationship between them and your company. Its hiring officers will reach out to your newly hired employees before their joining date to welcome them to the organization.
All of the 15 steps above show the regular hiring process of B2C Solutions. The same recruitment scheme will be followed in outsourcing for workers of FIFA Qatar 2022 World Cup jobs.
Consider assigning the best staffing solution in Doha for your manpower needs for this coming world's biggest tournament in Qatar and set your workers up for long term growth and success.