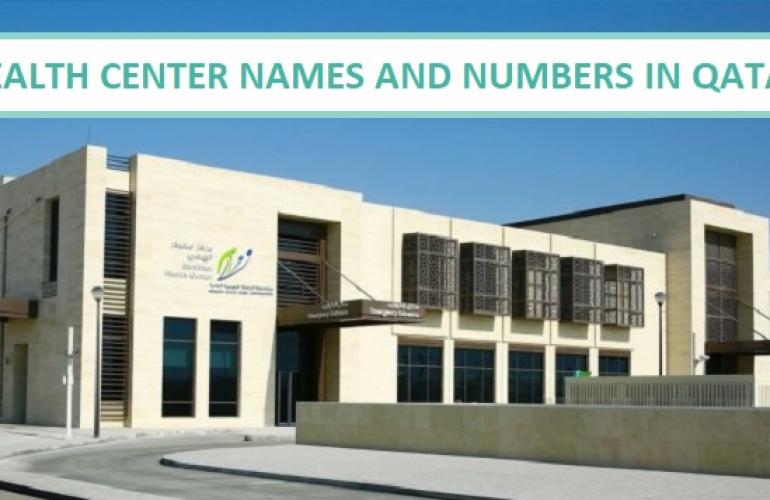 The Primary Health Care Corporation (PHCC) has initiated Phase 4 of its 'Back to Normal' plan, following the recent Cabinet decision to implement the final phase of the Covid-19 Qatar National Response Plan.
Today, 27 of the 28 PHCC Health Centres are fully operational once again to continue delivering quality healthcare services with face-to-face consultations.
Here's a list of Health Center Names and Numbers in Qatar that will serve as a guide to expats who have jobs in Qatar for their medical needs and to avail of government health care services:
HEALTH CENTER NAMES AND NUMBERS IN QATAR

QRC - Mesaimeer Workers Health Center

21

QRC – Fareej Abdul Azeez Workers Health Center

QRC – Hemaila Workers Health Center

QRC – Zekreet Workers Health Center

HEALTH CENTER NAMES

No.

Rawdat Ali Khail

24

Um Ghwalina

27

Madinat Khalifa

32

Omar Bin Khatab

40

Old Airport

45

Al Thumama

47

Gharafa

51

Al Rayyan

52

Wajba

53

Muaither

54

Abu Baker Siddique

55

Mesaimeer

56

Al Waab

57

West Bay

67

Qatar University

68

Umm Salal

70

Leabaib

71

Jumailiya

73

Al Daayen

74

Al Khor

75

Leghwiriya

76

Kaaban

77

Al Shamal

78

Sheehaniya

80

Abu Nakhla

81

Al Wakra

90

Al Karaana

97
Although Rawdat Al Khail Health Centre will continue as a Covid-19 dedicated health centre, with the number of Covid-related visits steadily decreasing, it will provide 24-hour Urgent Care and eventually resume all speciality services at a later date through a separate pathway.Dr. Samya Abdulla, executive director of operations PHCC, said with the exception of the Rawdat al-Khail Health Centre, which will remain as a Covid-19 dedicated health center, all other PHCC health centers have now fully restored their on-site health care services, including face-to-face visits with scheduled appointments, if requested by patients, but they will continue to offer virtual consultations to those patients who prefer that type of appointment.
Abdulla explained that the Community Call Centre, accessible via 16000, will continue to operate as usual, providing urgent telephone and video consultations when necessary.
Dental and SMART clinic services within health centers have also now resumed 100 % of their operational capacity for expats in Qatar as well as citizens.
'Drive Thru' swabbing services and 'Covid-19 Screening Clinic' services will also continue to operate at health centers until further notice.
PHCC requests both the health care teams and the community to continue to follow the Covid-19 guidelines.
All PHCC health centres will continue to follow strict operating procedures to control the spread of the Covid-19 virus, with stringent safety and preventive measures in place to manage face-to-face appointments.
These measures include smart scheduling of appointments, the use of personal protective equipment, social distancing within the centres, regular virus testing for its staff, as well as rigorous hygiene and disinfection protocols.
Having a health card to avail of PHCC health care services is one of the benefits that a Qatar expat can take advantage of while working in Qatar. Read this article to know more about Benefits of Working in Doha and finding an Outsourcing Service in Qatar when you are looking for new job opportunities in this country.
For your recruitment or employment needs, contact B2C Solutions today.
Source: Hukoomi