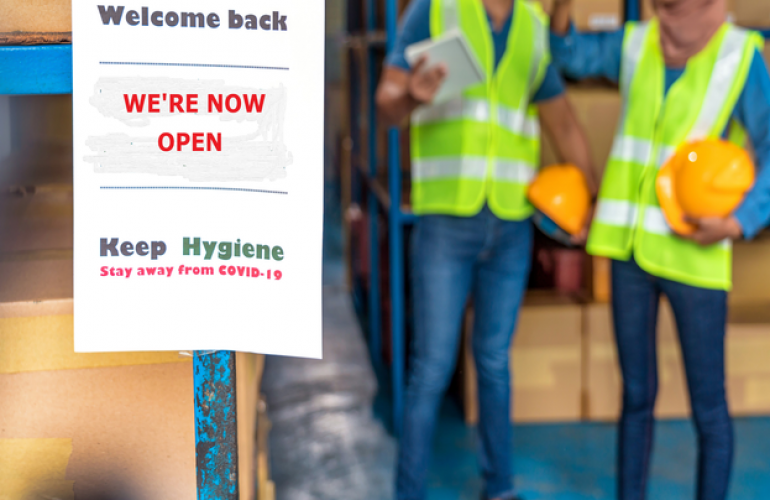 Qatar social media is currently abuzz with the good news that the State is easing its lockdown after imposing some restrictions last month due to the COVID-19 surge.
The excitement of returning to life as it once was rippled across Qatar is now felt by the citizens and residents, including the expatriate workers.
Many rejoiced that daily routines are about to return. These include the job opportunities in Qatar labor market.
As recently announced by the Ministry of Public Health (MoPH) and Ministry of Commerce and Industry (MoCI) officials, the lifting of restrictions will be in 4 phases with the first one starting from May 28, 2021.
Employers and recruitment companies in Doha anticipate the continuation of outsourcing in Qatar process as the decision to reopen some establishments and commercial activities are being implemented.
The decisions are as follows:
Workplaces
✔ 50% of the capacity and allow basic business meetings with a maximum of 15 vaccinated people
✔ Vaccinated employees from cleaning companies can work in more than one home
✔ Home cleaning services can be provided by more than 1 vaccinated employee in the workplace
✔ Allow vaccinated employees to provide services up to 30% during working hours
Restaurants
✔ To allow sitting outdoors and dining in restaurants with a capacity of 30%.
✔ Sitting indoor and dining with a capacity of 30% permitted for "Clean Qatar" restaurants (only for vaccinated customers).
Cinemas
✔ Opening theaters and cinemas with a capacity of 30% for above 16-year-olds (for those who received 2 doses of vaccines).
Health and Fitness Clubs and Spa
✔ 30% capacity is allowed for vaccinated customers only (all employees must be vaccinated).
Barbershops and Beauty Salons
✔ 30% capacity allowed for vaccinated customers only (all employees should be vaccinated).
Outdoor Swimming Pools
✔ 30% of the capacity, indoor swimming pools - 20% (for vaccinated individuals)
Theme Parks and Leisure Centres
✔ Open spaces with 30% of the capacity, 20% for indoor spaces (for vaccinated people).
Parks, Corniche and Beaches
✔ Allowing small groups of up to 5 people or members of the same family to open beaches with a capacity of up to 30%
Team Sports Training
✔ Allowing preparatory training for local and international tournaments approved by the Ministry of Public Health.
✔ Allow outdoor and indoor professional training for amateur training (10 vaccinated people for open area and closed area only 5 people allowed)
Local and International Sporting Events
✔ Holding certain sporting events and allowing 30% of the spectators, who are vaccinated, and not to allow fans in closed spaces
X Postponement of events, conferences and exhibitions
Shopping Centers
✔ Continuation of work at capacity 30%
X Close all food courts, with the exception of pick-up and delivery services
X Children under 12 years old are not allowed.
Traditional Markets (Souqs)
✔ Allow 30% capacity, resume work on Friday and Saturday
X Children under 12 years old are not allowed.
Wholesale Markets
✔ 30% of the capacity, children under 12 years old are not allowed.
Schools
✔ Blended Learning with a capacity of 30%
Educational Centers for Special Needs
✔ Only 5:1 educational sessions allowed (the trainers need to be vaccinated)
Training and Education Centers
✔ Capacity of 30% allowed (trainers need to be vaccinated)
Nursery and Childcare
✔ 30% of capacity (vaccinated employees)
Public Transport
✔ 30% of the capacity in all public transport, work resume on Friday and Saturday
X Suspension of rental services for boats, tourist yachts and pleasure boats, with the exception of rental services for family members residing in the same house.
✔ A maximum of 10 people are allowed to use personal boats only (4 unvaccinated among them are allowed). All boat workers must be vaccinated.
Driving Schools
✔ Open with a capacity of 30% (staff must be vaccinated and only allow vaccinated employees to give lessons).
Social Gatherings
✔ Indoor - 5 vaccinated people maximum
✔ Outdoor - 10 vaccinated people or maximum of 5 mixed people
X No permission yet to hold weddings
X Close smoking areas
Mosques
✔ Children under 12 not allowed. Toilets still closed
Tours
✔ 30% allowance for libraries and museums
"Unlike last year, we will be able to make more freedoms available to those people who are vaccinated where they will enjoy certain privileges before others," said Dr Abdullatif Al Khal a chief official at Hamad Medical Corporation (HMC).
The partial lifting of the abovementioned Covid-19 restrictions are in place to curb the virus spread in Qatar.
The plan to gradually lift the restrictions will be delivered with each phase lasting 3 weeks. Phase 2 will start on June 18, the 3rd one is on July 9 and 4th is on July 30, 2021.
For many, the news signaled the beginning of the end of an unprecedented period of lockdown, isolation and uncertainty that kept them hunkered down due to unemployment and crisis as the pandemic spread globally.
Looking for Doha jobs 2021? Here are the Most In-demand Jobs in Qatar that you might be interested in applying to.
If you're looking for an outsourcing service in Doha to assist you in your hiring process, B2C Solutions is one of the best recruitment companies in Qatar providing end-to-end staffing solutions.