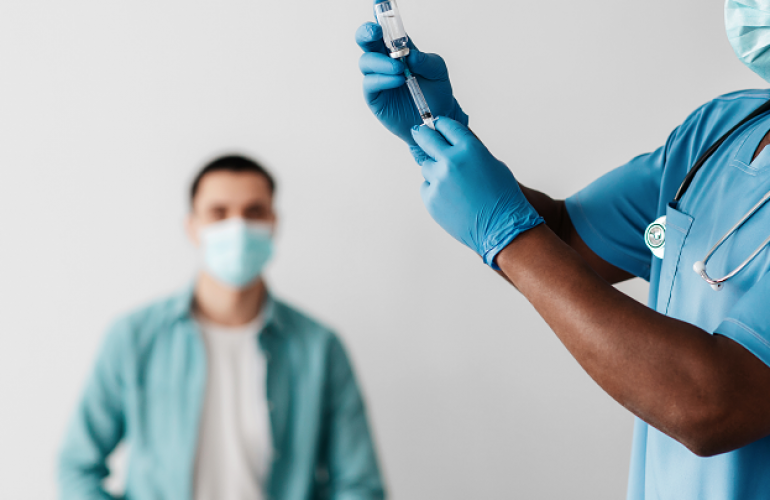 What are the businesses in Qatar that require vaccinated employees to resume operations? How are employers outsourcing in Qatar for vaccinated and unvaccinated workers?
In this article, you will know the current recruitment process in the country and which staffing service in Doha is providing end-to-end HR solutions for startups, SMEs, or large corporations.
As COVID-19-related workplace restrictions ease for those who are fully vaccinated in Qatar, employers may want to hire more workers with coronavirus (COVID-19) vaccination certifications.
With vaccinations for COVID-19 ramping up and a return to workplaces is happening, bringing people safely back to the workplace means navigating a new whirlwind of labor protocols and the pressing question: Should workers be required to get fully vaccinated in Qatar?
Although vaccination for COVID-19 is not mandatory it may be required for certain jobs, or to attend a place of work. Qatar has relaxed its COVID-19 safety rules for people who are fully vaccinated.
After vaccination, workers from the follwoing businesses or establishments in Qatar may resume to provide services to the customers:
• Maritime transport
- Continued suspension of boat rentals and tourist boats, except for families
- Private boats will be accessible for up to 10 vaccinated people, with up to 4 unvaccinated people allowed
- All boat staff must be vaccinated
• Driving schools
- Driving schools to start operating at 30% capacity
- Vaccinated employees allowed
- Only vaccinated employees will be allowed to administer lessons
• Special needs centres
- 1:5 educational sessions only (vaccinated trainers)
- Private educational centres and training centres
- 30% capacity (vaccinated trainers)
- Nurseries and childcare facilities
- Resume operation at 30% capacity (vaccinated employees)
• Workplaces
- Continue at 50% capacity at the workplace
- Allow essential business meetings for a maximum of 15 vaccinated people
• Hospitality and cleaning services
- At homes: vaccinated employees can provide services for more than one home, and services can be provided by more than one vaccinated individuals
- At work: vaccinated employees can provide services at 30% capacity during working hours
- Gyms, training clubs and spas
- Allowing operation at 30% for vaccinated customers only
- All employees should be vaccinated
Now that you have learned what the establishments are requiring COVID-19 vaccination certificates to continue providing services, as an employer that needs manpower support, what are the best recruitment companies in Qatar you can rely on?
B2C Solutions has built a trusted reputation and extensive experience in providing staffing solutions in Doha to both private and public sectors in the State.
Business to Consumer Services (B2C) saves your company's time and effort by short listing candidates for your urgent manpower needs.
B2C is a leading staff augmentation service provider with expertise in Human Capital, catering to:
- End-to-end HR solutions
- Strategic HR consultancy
- Talent acquisition
- Competency development
- Training solutions
B2C's partnership with the biggest names across the country speaks volumes that it is a success syndicate.
B2C Quick Facts
- 70% government clients
- 20+ nationalities hired
- A database of 150,000 candidates
- 20,000+ payroll
To partner with B2C Solutions for your company's recruitment needs, send an email to business@b2c-solutions.com.
If you are a job seeker in search of construction-related jobs or actively looking for an immediate job, send your CV to jobs@b2c-solutions.com.
B2C is outsourcing manpower to respond to the employers needs for workers who will then get vaccinated under their guidance.
Local authorities are starting to mandate shots before workers are deployed. It's a new rule some managers are rolling out for existing employees and new hires.
"Fully vaccinated" in Qatar means that 21 days have passed since a person received the first dose for Pfizer/BioNTech and 28 days for Moderna.
The safety and health of workers are the shared responsibilities of a staffing agency or host employer. Employment in Qatar encourages all employers to make it easier for their employees to get vaccinated through the government's assistance.
In fact, the Ministry of Public Health (MoPH) has set up a COVID-19 Vaccination Scheduling Unit (VSU) for the vaccination of business workers in support of the National COVID-19 Vaccination Program.
The Unit supports the vaccination of workers in all businesses, but prioritization would be given to key businesses that are in direct contact with the rest of the community such as:
• barber and hairdresser salons
• restaurants
• retail shops
• supermarkets
• hotels
• other hospitality services
Businesses – not individuals - can contact the Unit directly to schedule vaccination appointments for their staff: VCIA@hamad.qa
Read also:
Are You Vaccinated Check This Outsourcing In Qatar Guide For Workers With Covid-19 Immunity?
What Are the Benefits for Vaccinated Workers and How Outsourcing in Qatar Operates This Pandemic