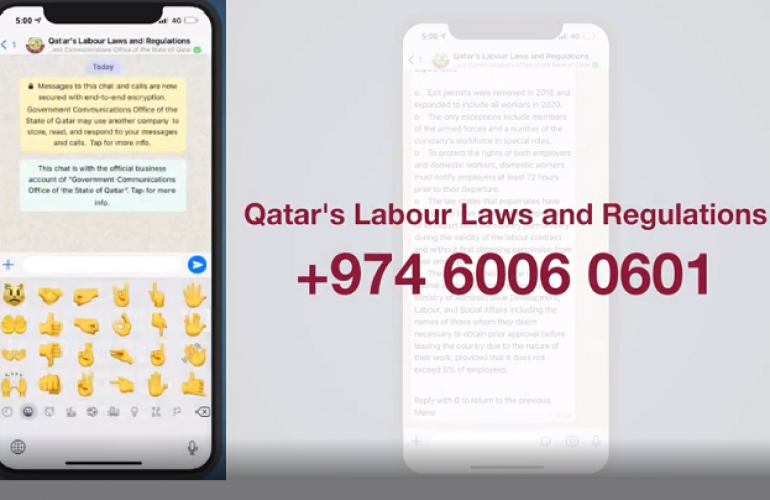 Do you want to know the latest updates on Qatar's Labour Law? Good news! Now you can keep abreast of all the relevant information at your fingertips!
Thanks to the newly launched WhatsApp automated chatbot, designed to provide clarity for employers and employees regarding Qatar's labour laws and regulations.
If you are looking for more jobs in Qatar now hiring online, there are many recruitment agencies in Qatar ​ready to help you in your job search.
The new service was launched by the Government Communications Office (GCO), in cooperation with the Ministry of Administrative Development, Labor and Social Affairs (MADLSA).
This 24-hour information service is fast and easy to use. What's more? It is free and accessible to all! Here's how to get started:
Step 1: Add the number +974 6006 0601 to your phone contacts. You can also activate the service through this link: https://wa.me/97460060601?text=Hi
Step 2: Send a message by typing any word.
Step 3: Choose one of the following options by replying with the number before your preferred language:
1 Arabic
2 English
3 Urdu
4 Hindi
5 Nepali
6 Malayalam
Step 4: Reply with a number to get the latest information on any of the topics below:
1 Know your rights 📢
2 Apply through Qatar Visa Centre 📍
3 Complaints 📝
4 Application Status 📥
5 Key Q&A's 📖
6 Important numbers 📞
7 Change language 🔡
​Once you select a topic from the above options, you will be directed to more relevant issues.
​For example: If you choose "Know your rights," the Automated Chatbot will provide the following instruction:
​Reply with a number to get the latest information on the topic:
1 Full removal of exit permits for expatriates
2 The removal of No-Objection Certificates
3 Minimum wage of QAR 1,000
4 Wage Protection System
5 COVID-19 regulations
6 Restriction on summer working hours between 15th June and 31st August
7 New measures to prevent passport confiscation
8 Joint committees
9 Labour inspection Policy and occupational safety and health
10 Shelters
0 to return to the previous Menu
So, if you want to know about the removal of No Objection Certificates (NOC), you will receive the below guidelines:
The removal of No-Objection Certificates
Qatar has removed the No-Objection Certificate requirement with immediate effect, allowing employers and employees in Qatar to terminate the work contract once they have provided:
▪️ One month's written notice to the employer or the employee if the employee has worked with employer for two years or less.
▪️ Two months' notice to the employer or employee if the employee has worked with the employer for over two years.
​There are several job opportunities from Naukri in Doha that you can apply now without NOC.
Do you think this is a great move of Qatar's Government to streamline its information dissemination process about the country's labour market? Try it yourself and tell us your thoughts in the comments!