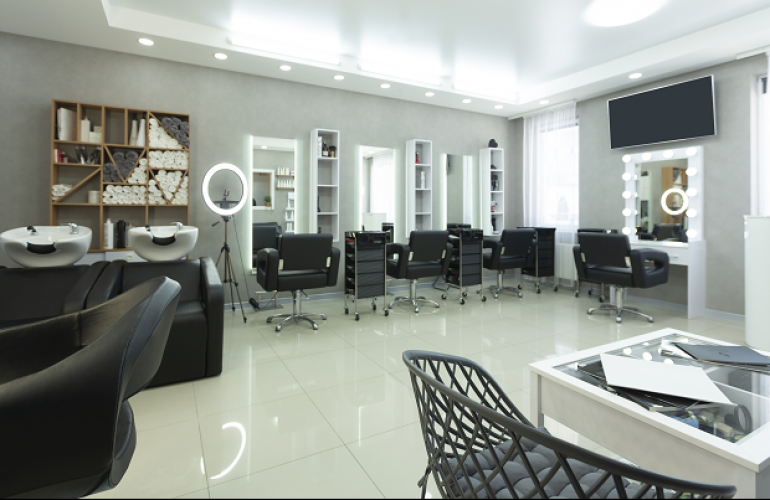 If you are a startup or an emerging company, you can always outsource your needed manpower with a pool of talents available in Qatar.
To get fast results, partner with a recruitment expert specializing in outsourcing in Qatar to provide you with the most qualified people for your business.
The type of personnel you hire will depend on the type of business you choose to start or improve. If you are establishing a salon or spa, we've put together a list of job descriptions to get you started on hiring the right team for your shop.
RECRUITMENT PROCESS
Recruitment agencies in Qatar like B2C Solutions are experts in screening potential candidates for your business.
Hire Top Talents in the Beauty & Wellness Industry
B2C Solutions can help with all your hiring needs. As a leading staffing service in Qatar, it is constantly building a nationwide network to connect you with the top talent in the industry. Whether you are hiring commission, salaried, hourly or booth rental professionals, B2C is your resource.
Whether you want to hire someone for a full-time hair colorist job in Doha or a part-time beauty salon job, B2C has all the tools and resources that you may require to conclude the whole process smoothly.
BEAUTY SALON DEFINED
A cosmetologist is a person who is licensed to perform the mechanical or chemical treatment of
the head, face, and scalp for aesthetic rather than medical purposes for compensation in a licensed cosmetology salon. These services include:
• hair
• shampooing
• hair cutting
• hair arranging
• hair braiding
• hair coloring
• permanent waving
• hair relaxing
• non-invasive hair removal
The salon industry is cash intensive. The majority of the workforce has a high school education and are graduates from cosmetology training courses.
B2C is a reputable staffing solution in Doha that can help you with all your recruitment needs. They will conduct an initial interview with the applicants, evaluate their job credentials, and explain that their salaries are normally based on productivity.
You can ask the recruiter to explain how compensation is paid in your company. Note: Some type of productivity record is generally used to determine compensation - request that record or an explanation in writing. Compensation can be based on a commission, a straight salary, or a salary/commission combination.
Every company, from the smallest independent outfit to the largest salon chains, will use their own preferred terms to describe their staff's roles.
BARBER SHOPS
Currently, barbershops and hairdressers can operate with a maximum capacity of 30% allowing only vaccinated clients. This is in compliance with the COVID-19 restrictions set by the Ministry of Public Health (MoPH).
In the Barbering Industry, a licensed barber is only allowed to perform practices to the:
• head (like a haircut)
• face (like a shave)
• neck of a customer
Barber Shops tend to have a much flatter structure than hair salons, as the services they offer are usually less varied.
Most staff will perform a similar role, although assistants and managers are also present to make sure that the 'behind the scenes' aspects of the business, such as the finances and administration, are all in order.
FULL-SERVICE SALON
A typical full service salon may offer:
• Hair: haircuts, trims, shampoo and conditioning; curling, and styling; hair coloring including all over color, regrowth color and highlights/foils & weaving; hair and scalp
treatments; relaxers, perms (permanent waving);
• Nails: manicures, pedicures, polish, sculptured or acrylic nails, nail repair, hand conditioning treatments.
• Skin Care: Facials, body waxing, massage.
Here are a few of the positions you can hire with the help of B2C:
• Hair Stylists
• Educators
• Colorists
• Shampoo Tech/Assistants
• Barbers
• Salon & Spa Coordinators
• Nail Technicians
• Salon & Spa Front Desk Personnel
• Estheticians
• Waxing Specialists
• Retail Specialists
• Make-up Artists
• Sales Consultants
• Massage Therapists
Makeup Artists
Makeup artists consult with clients and hair stylists on an agreed target look, and apply makeup accordingly.
Salon Managers
The salon manager will be responsible for ensuring that all of the salon's finances and administration are all in order. They'll also need to ensure that the right salon insurance is in place and that all employees are covered. So although they could have a background in hair and beauty, it's not the main focus of their role.
The salon manager can be the business owner as well, but this isn't a requirement for the role.
Salon Assistants
Assistants tend to be trainee positions and it's likely they'll be working towards a full qualification to become a stylist. This means that there will usually be a lot of learning on the job as part of this role.
Assistants perform some of the same roles as a shampooist, including sweeping the floor, serving tea and coffee, and generally making clients feel comfortable. They'll also help with more technical tasks like colour formation and blow-drying.
Salon Receptionists
Medium and larger-sized salons will usually have a dedicated receptionist to keep track of appointments, make sure that clients are comfortable and help to keep the salon clean and tidy.
A salon receptionist doesn't always need to have any hair and beauty qualifications or skills, but to be successful in the role they'll need to be well organised, presentable, and, most importantly, good with people.
Stylists
A fully-fledged stylist will be able to work independently, having gained the qualifications and experience they need to show they can perform the role.
Senior Stylists
With a few years' experience of cutting and styling hair behind them, a senior stylist will have the skills to deliver the highest quality of service. Which means that they'll also be able to command the highest fees for their work.
Colourists
In larger salons, a specialist colourist will usually take care of all the hair colouring. In smaller salons, where a wider range of skills will be required for each role, this could be part of the job of a stylist.
Waxing Specialists
With the popularity of waxing for men and women on a seemingly unstoppable rise, it's no surprise that the role of waxing specialist has also become more widespread.
As with many of the other beauty salon roles available, waxing may be carried out by staff who are also qualified to perform other treatments such as hair styling or makeup artistry, but it can be a dedicated area of focus for some professionals.
COSMETOLOGY HAIR SALONS
Hair Stylists
Strong knowledge of all hair styling and nail products, and know how to create modern hair and nail styles.
Shampooist
Shampooists don't need to be qualified and don't necessarily intend to have a related career, so this is usually the first step on the career path for newcomers into hair and beauty, but it can also be a way for more experienced hairdressers to make a little extra money. It can also be a good way for someone considering a career in hairdressing to get to know the salon environment, and decide if it's for them.
The role tends to be more general than the title suggests, involving sweeping up, greeting customers, making tea and coffee, and possibly answering the phone and booking appointments.
MASSAGE PERSONAL CARE SERVICES
Today, spas can open with a maximum capacity of 30% for vaccinated customers only and all staff must be vaccinated, in compliance with MoPH's COVID-19 safety precautions.
Spa Therapists
Delivering a variety of spa services (body treatments, massages, facials, waxing and manicure/pedicure) in a safe and comfortable manner. Maintaining equipment and sample inventory of products. Acknowledging and responding to relevant customer queries, needs and expectations.
NAIL SALONS
Nail technicians
Nail technicians give manicures and pedicures, apply extensions and also give massages. Usually, a nail technician will be at least part qualified, and if they're performing any specialist treatments they'll need to have taken the relevant course(s).
Good people skills are essential as well as attention to detail. Creativity and artistic flair are also key.
Manicurists and Pedicurists
They work exclusively on the hands and feet, providing treatments to groom fingernails and toenails. A typical treatment involves soaking the clients' hands or feet to soften the skin in order to remove dead skin cells.
PRO TIP 1: Professional Hair/Beauty Products Selling
Most salon businesses offer a wide range of hair and beauty products in order to provide everything a customer needs in one convenient location.
Retailing professional hair products is an important strategy for retaining clients and making additional profits.
PRO TIP 2: Salon Employees and Independent Stylists
• A salon can have both employees and independent stylists.
• When the stylists are employees they work according to the salon's schedule and use products supplied by the salon. They are not responsible for any bookkeeping beyond reporting their tips.
• Whether a stylist is independent or an employee, efficiency is the key factor. A stylist who can take more clients in a day earns more income and tips.
B2C's industry expertise, coupled with our unwavering dedication and commitment to helping its clients, will aid you in taking your brand to the next level. It uses its years of experience to help employers, and professionals get the tools and resources they need when hiring people.
This recruitment company in Qatar knows what it takes to build and grow a business in this fast-paced, multifaceted industry, and is willing to take care of all your hiring needs.
Looking for the best recruitment agency in Qatar? Partner with B2C Solutions for all your hiring needs. Get in touch with them by sending an email to business@b2c-solutions.com.
If you are a job seeker in search of jobs related to oil and gas, or actively looking for an immediate job, drop your CV to jobs@b2c-solutions.com.