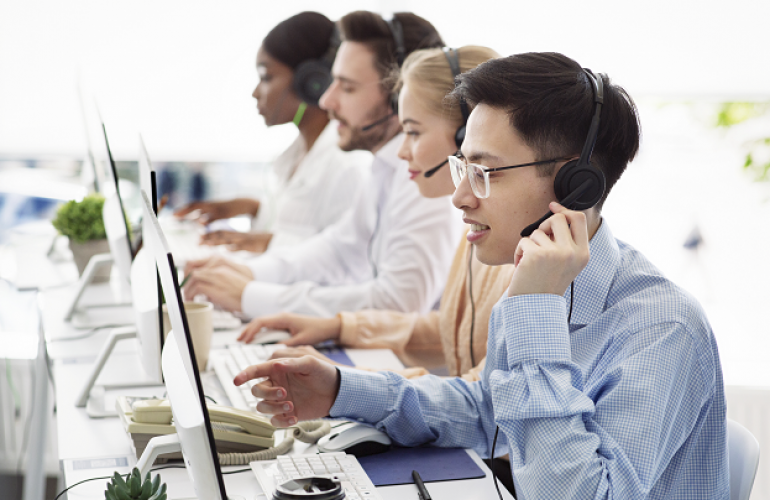 Call center agents in Qatar are today's heroes. Despite the challenges they face, they continue to perform their jobs during the Covid-19 pandemic.
As essential workers, customer service representatives in Doha, play a vital role in keeping customers informed, easing their anxieties and supporting the companies they represent.
But, pandemic or not, customers everywhere are still demanding a more personalized and hassle-free experience. In fact, some businesses, like banks, F&B, and delivery services — have seen a surge in customer demand.
Customer relations specialists have always been in the business of keeping customers happy. They're on the front lines dealing with customers who need complex problems solved. They are brand ambassadors and long-term loyalty builders.
But, how can companies ensure that they have the right candidates to fill in their call center agent roles?
One of the most trusted outsourcing services in Qatar, B2C Solutions is only shortlisting candidates who are experts in providing customer service.
This recruitment company in Doha can help organizations effectively and efficiently deliver essential customer services by staffing telemarketers and sales agents who can:
• Deliver great customer experience on every device and channel.
• Give customers consistent and accurate answers.
• Boost customer experience metrics for the company
Agents need to be knowledgeable on new tools and support systems to access relevant information about troubleshooting, common customer issues and company processes. B2C provides a staffing solution in Doha for these types of service crew you need.
Many employers are looking for full-time or permanent call center agents. Some prefer those with a minimum Bachelor's degree. However, freshers are welcome to apply.
What are the regular duties of a call center agent?
• Answers incoming calls from customers
• Respond to inquiries
• Manage complaints
• Solve customer service problems and share general information
• Manage and update customer databases
• Ensure all telephone calls are answered in a timely manner
• Ensure all inquiries and issues are dealt with promptly
• Follow up customer calls and update status
What are the qualifications usually preferred by most companies from a call center agent?
• With experiences in any of the following:
- banking
- as property advisor for real estate
- hospitality
- sales
- marketing
- customer care
- can work flexibly as admin cum call centre
• Results-driven
• Well presentable
• With excellent interpersonal skills
• Organized to schedule their time and following up
• With ability to work autonomously and sell effectively
What are the skills and requirements usually required by employers from a customer service staff or telemarketer?
• Excellent English Speaker
• Preferably Arabic Speaker
• Excellent knowledge of Microsoft Word, Office, and Excel
- Must have Call Center experience.
• Excellent communication skills
• Prioritizing, time management and organizational skills
• Relationship management skills and openness to feedback
• Excellent communication skills
• Excellent customer service skills
• Ideally with a transferable visa and valid QID
• Able to join immediately
What is the salary range for call center agents or telemarketers?
Average salary for this position is ranging from QAR2,000 to QAR 5,000 per month.
Looking for the best recruitment agency in Qatar? Partner with B2C Solutions for all your hiring needs. Get in touch with them by sending an email to business@b2c-solutions.com.
If you think you are suitable for the call center agent positions, you may submit your CV to jobs@b2c-solutions.com including (Nationality, Marital Status and Visa Status NOC, recent personal photo, experience and availability to join the new position, and valid contact details).