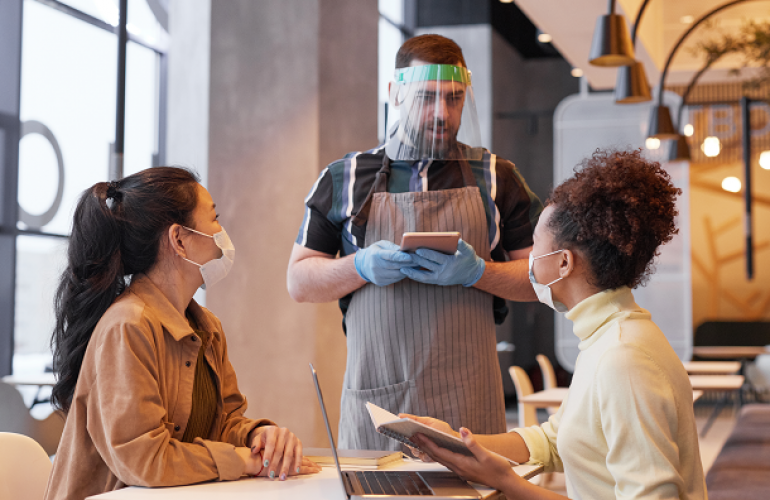 Looking to hire cafe and restaurant workers in Doha? B2C Solutions connects you with customer service skilled workers who are a perfect fit for your company.
Not all hospitality businesses conduct stringent applicants' background checks. Lack of manpower recruitment expertise leads to poor quality of staff.
However, B2C's roster of experienced and multi-talented candidates ensures that your customers get the best experience, even if one of your regular employees isn't available.
Is your head waiter going on a well-deserved holiday? Has one of your employees called in sick?
If you need to employ Food and Beverage (F&B) personnel fast, this job consultancy firm that is expert in outsourcing in Qatar, can help you with all your recruitment needs.
As hospitality recruitment professionals, this company has a unique insight into what businesses like yours want in a staff member. B2C is driven to help you get the right person for your job vacancy.
Why Choose B2C?
Our hospitality recruitment agency can help you if:
• You have a high-demand for orders but experiencing scarcity of manpower
• You're preparing for an upcoming busy period
• You don't have enough people to fill the gaps
• You're struggling to find someone at short notice
Waiters
As main points of contact for your business, it's important that your waiters or F&B attendants provide excellent service and make a great impression.
Luckily, we only select the very best - you can be confident you're getting the right people from our pool of talents.
Baristas
In a country that is home to different nationalities, people are picky when it comes to their caffeine fix. Therefore, we screen applicants on their knowledge of drinks, whether caffeinated, blended or brewed.
Multitasking Staff
We specifically choose staff who can hop behind the register, work the espresso machine, prepare sandwiches and more in an instant.
Cafe Crew
Cafe staff are trained to multi-task. Apart from steaming milk, they'll also need to prepare food, all while giving the best customer service.
All of B2C's cafe personnel are carefully vetted by hospitality experts who understand what you're looking for.
The company ensures that every cafe employee it provides (whether temporary or permanent) is trained in customer service and proper food handling.
Restaurant Staff
Waiters, baristas, cooks… you name it, and B2C can provide it for you!
Whether yours is a large restaurant or a small and intimate cafe, skilled restaurant workers play an essential part of the dining experience.
Operated by hospitality recruitment professionals, B2C cares about this industry and the people in it. Here are the other factors why you should consider partnering with this staffing solution in Doha:
In-depth Interview
All of B2C's recruiters have been vetted via its interview and screening process to ensure they only shortlist highly qualified candidates.
Advanced Technologies
B2C only uses the latest technologies in recruitment, staff scheduling, and management.
Need staff for your cafe or restaurant? Contact with B2C Solutions now! Get in touch with them by sending an email to business@b2c-solutions.com.
If you are a job seeker or actively looking for an immediate job, drop your CV to jobs@b2c-solutions.com.