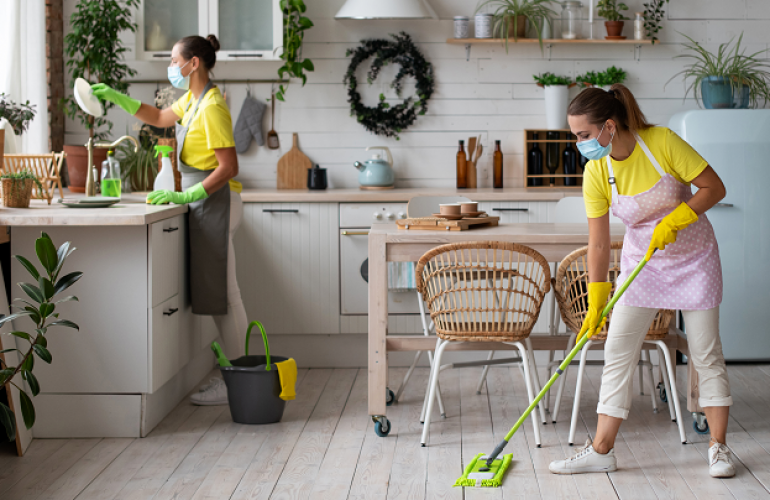 Are you hiring new staff or finding a job in the cleaning or housekeeping sector? Do you know how much money a person working in this field makes in Qatar?
Whether you are a company recruiting more cleaners or an applicant looking for Doha job opportunities in household management, this article will serve as your guide to knowing the basic wage of workers employed in this industry.
According to most online job portals in Qatar, the average salary for cleaners in Qatar is QAR 2,292 per month in Qatar.
In other job sites, the current salaries mentioned in job posts are ranging from QAR 1,000 to QAR 1,800 — plus accommodation and transportation provided by the company, plus other benefits.
Some recruiters prefer to discuss the workers' pay upon interview. Salaries vary drastically between different cleaning and housekeeping careers.
Here are the average salaries for specific job titles according to salaryexplorer.com and other job sites:
• Apartment Assistant Manager: QAR 5,000 - 6,000
• Assistant Director of Housekeeping: QAR 6,000
• Cleaner: QAR1,800 - 4,300 QAR
• Cleaning and Housekeeping Manager: QAR 6,000 - 7,000
• Domestic Housekeeper: QAR 1,800 - 4,130
• Executive Housekeeper: QAR 4,600
• Groundskeeper: QAR 4,500
• Housekeeper: QAR 1,800 - 4,400 QAR
• Housekeeping Supervisor: QAR 5,500
• Laundry Worker: QAR 3,000 - 4,000
• Resident Manager: QAR 7,800
• Sanitation Worker: QAR 3,500 - 4,000
The experience level is the most important factor in determining the salary. Normally, the more years of experience the higher the wage.
The average hourly wage (pay per hour) in Qatar is 33 QAR. This means that the average person in Qatar earns approximately 33 QAR for every worked hour.
The hourly wage is the salary paid in one worked hour. Usually jobs are classified into two categories: salaried jobs and hourly jobs. Salaried jobs pay a fixed amount regardless of the hours worked. Hourly jobs pay per worked hour.
If you want to know about the usual rates of cleaning services offered by most companies to any establishment or individual in need, here are the details:
Cleaning Services Without Materials
90 QR (2 hours)
120 QR (3 hours)
160 QR (4 hours)
Cleaning Services With Materials
100 QR (2 hours)
150 QR (3 hours)
200 QR (4 hours)
New Minimum Wage
Following the new Qatar Labour Law, the employer will be legally required to pay each employee a basic wage of no less than QAR 1,000 a month and provide him/her with decent accommodation and food.
However, the employer may prefer to pay the worker more money so he/she can arrange his/her own food and accommodation.
Here are the terms and conditions to further explain the new law:
​1. If the employer provides the worker with decent food and accommodation (that is, he/she does not pay for food and accommodation). The worker is entitled to a basic wage of at least QAR 1,000.
​2. If the employer provides the worker with decent accommodation, but does not provide him/her with food, he/she is entitled to a food allowance of no less than QAR 300 on top of a basic wage of at least QAR 1,000. In this case, the employee should receive at least QAR 1,300 per month.
​3. If the employer does not provide the worker with accommodation or food, he/she is entitled to allowances of no less than QAR 300 for food and QAR 500 for accommodation on top of a basic wage of at least QAR 1,000. In this case, he/she should receive at least QAR 1,800 per month.
Qualifications
Most companies in Qatar are looking for applicants whom they can arrange for local transfer or those with transferable visas. Having a Qatar ID is also an advantage. The nationalities usually preferred are Filipinos, Nepali, Bangladeshis, Sri Lankans and Indians.
So, if you're planning to hire professional cleaners in Qatar, the fast and easy way to find one is through an expert recruitment agency like B2C Solutions.
Specializing in housekeeping consultancy services, B2C can provide you with residential or commercial cleaning professionals for your home, apartment, office or retail space on a one-time, twice weekly, weekly or monthly basis.
This outsourcing service in Qatar also provides relocation cleaning services and sanitation solutions for special occasions.
B2C takes pride in making sure your company has the right candidates at the right time when you need them.
What B2C Recruits For:
• Cleaners
• Laundry Workers
• Housekeeping Workers
• Warehouse, Loaders / Unloaders
• Pickers / Packers / Assembly Workers Construction
• Labourers
• Hospitality Workers
• House Keepers
• Manufacturing and Production Workers
• Logistics Assistants
• Drivers
• And more
B2C is the leading housekeeping staffing agency in Qatar, offering placement solutions to clients. Its professional team of recruiters consolidate the recruitment, placement, and training of housekeepers and cleaners.
Its main goal is to help employers like you by providing full time or contractual housekeeping consultancy services by outsourcing skilled workers in Qatar.
Looking for the best recruitment agency in Qatar? Partner with B2C Solutions for all your hiring needs. Get in touch with them by sending an email to business@b2c-solutions.com.
If you are interested in employment opportunities, drop your CV to jobs@b2c-solutions.com.