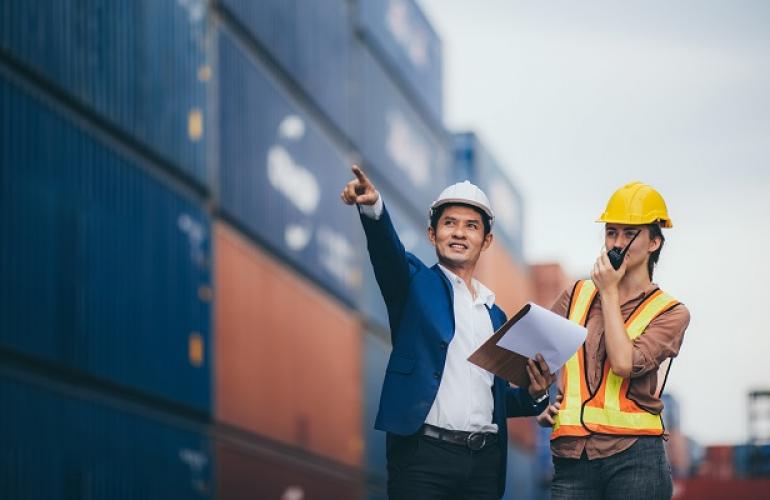 The development of Logistics staffing services in Doha has been rapid and at a great pace that has led to the absorption of a talented workforce.
The growing demand of the staff of the logistic industry has made room for recruitment agencies that can make available the required manpower.
B2C Solutions is a leading outsourcing service in Doha that matches top talents to the roles that need them most.
​This job consultancy firm bridges the gap between employees and employers. With its expert team of recruiters, it caters to the needs of both entities.
How B2C Can Help
As the best recruitment company specializing in staffing solutions in Qatar, B2C Solutions is an acknowledged expert recruiter across the full spectrum of Logistics recruitment, — be it eCommerce, freight forwarding, sea, rail or road freight, owner operators, 3rd party operations, or warehousing, you name it — B2C has covered it!
Job Roles B2C Can Fill Within Logistics
B2C recruits a variety of roles for the Logistics industry within Freight, Retail, FMCG, Manufacturing, eCommerce, Parcels, and Pharmaceuticals. It specializes in the following role types on both a permanent and interim basis:
• Transport Planner
• Transport Team Leader / Supervisor
• Warehouse Team Leader / Supervisor
• Shift Manager
• Operations Manager
• General Manager
• Warehouse Manager
• Contract Manager
• Carrier Manager
• Logistics Manager
• Transport Planning Manager
• Compliance Manager
• Health and Safety Manager
• Facilities Manager
• Continuous Improvement Manager
• Project Manager
• Programme Manager
• Logistics Regional Manager
• Warehousing Regional Manager
• Transport Regional Manager
• Head of Logistics
• Head of Transport
• Logistics Director
• Transport Director
• Managing Director
• Operations Director
• Account Director
• Head of Logistics
• Programme Manager
• General Manager
• Project Manager
• Transport Manager
• Solutions Design Manager
• FMCG / Food & Grocery
• Retail / E-commerce
• Wholesale / Third Party Distribution
• Industrial / Manufacturing
• Automotive – Aftermarket & Inbound
• Parcels
• Pharmaceutical / Healthcare
Experienced in the recruitment of high-performing Logistics professionals, B2C has been leading the field and has built an established record for outsourcing only the most qualified candidates to meet its client's needs.
As specialists in logistics recruitment, B2C's recruiters can provide you with a shortlist of candidates that meet your requirements within days.
Place your confidence in the company's passion and expertise in logistics recruiting so you can focus on your business.
Browse its latest job vacancies in Qatar and make B2C your recruitment partner.
If you're an employer, call B2C today to discuss your hiring needs.
For Job Enquiry: jobs@b2c-solutions.com
For Business Enquiry: business@b2c-solutions.com