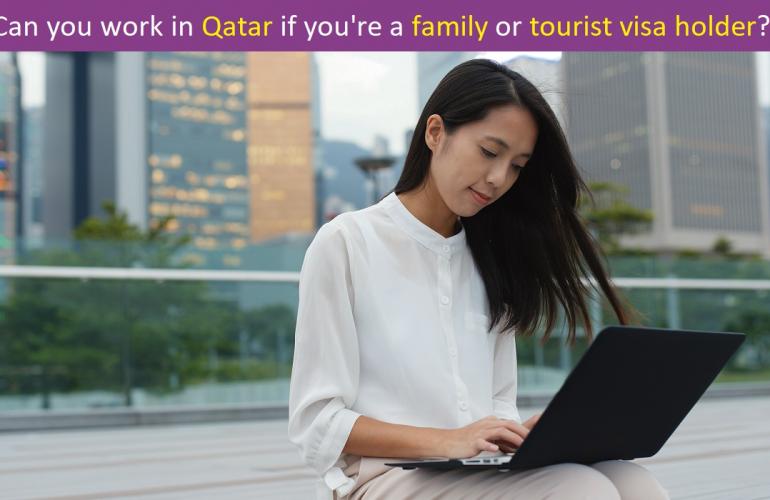 Qatar is now issuing Family Visit and Tourists Visas following the announcement of the Ministry of Interior (MoI) on July 8 this year.
As of July 12, 2021, the resumption of issuing tourist and family entry visas has been implemented. Not just that, but there is also a new travel policy that came into effect on the same day.
Under the latest policy, vaccinated people from all countries are exempted from quarantine. Countries are classified into 3 categories – green, yellow and red. Vaccinated people coming from the red list are required to have repeat RT PCR on arrival.
If coming from green list countries then adults including pregnant women, lactating mothers and 75 years old and above will need home quarantine for 5 days.
Can Family Visit or Tourist Visa Holders Work in Qatar?
According to Hukoomi, Qatar's e-Government Portal, residents in Qatar who are under the sponsorship of their family members may submit a request to obtain a work permit at the Recruitment Department at the Ministry of Administrative Development, Labor and Social Affairs (MADLSA).
To request a work permit for those Sponsored by Family Members, click here. License Issuance fee is QR 500 and QR 60 for Contract Authentication.
Once you get your work license approved, seek professional assistance with the most trusted outsourcing service in Qatar to help you find a promising career.
Note: For those entering Qatar on Tourist Visa, please beware that you are NOT allowed to work. This advice has been published by MoI's Search and Follow up Department on its official page.
If your wife starts working after she joins you in Qatar, does that require her to transfer her sponsorship?
A foreign woman who comes to stay with her husband and starts to work after coming here, stays on her husband's sponsorship.
If the marital relationship ends for any reason, any member of the family may transfer to another applicant after the approval of the competent authority, in accordance with the regulations issued in a decision by the Minister.
Your wife can work in Qatar, but after registering in the Recruitment Department at the MADLSA and getting hired from any jobs opportunities in Qatar.
A woman who is in Qatar on a family sponsorship and who has approval from her husband may register to work without obtaining a separate work permit. Applicants may visit the Labor Department to complete the application process.
Important Notice
Passengers coming to Qatar from all ports will have to pre-register on the "Ehteraz" website (www.ehteraz.gov.qa) and attach all the required documents before arriving in Qatar for a period of no less than 12 hours.
No quarantine required for Qatari citizens and residents including GCC citizens who are currently QID holder if fully vaccinated with an approved vaccine or diagnosed and recovered from COVID-19 (within 9 to 12 months) in Qatar, or in other member states of the GCC provided that the latter received at least 1 dose of any of the MOPH-Qatar recognized vaccine.
List of MOPH-Qatar Recognized Vaccines
1. Pfizer BioNTech
2. Moderna
3. Oxford-Astrazeneca
4. Janssen/Johnson & Johnson (One Dose)
Persons who have been partially vaccinated (one dose of two doses), vaccinated with full course but did not complete a period of (14) days since the 1 dose for J&J or 2nd dose for other MOPH recognized vaccines, who received vaccines not approved by MOPH-Qatar and diagnosed and recovered from COVID-19 within the last 9 months abroad (non-GCC states) will be classified into three (green, yellow and red) categories according to the country they are travelling from.
Conditional Vaccines:
5. Sinopharm
6. CoronaVac/Sinovac by Sinovac BioTech (Inactivated vaccine) Removed
Note: Travelers fully vaccinated with the above-specified conditional vaccines will be subject to an antibody test on arrival, if the result is positive with antibodies, exempted from quarantine; otherwise the traveler must undergo applicable quarantine based on the country of departure.
Qatar Family Visit Visa Now Open For More Countries
Metrash2 now accepts family visit visa applications from more countries including India, Pakistan, Sri Lanka and Bangladesh. Now residents can fill in the details and submit relevant papers via Metrash2.
The Philippines and Nepal, which were part of the compulsory 10-day hotel quarantine requirement list, are also now available in the family visit visa list.
As per the new travel policy, people with family visit visas can travel to Qatar, provided they are fully vaccinated by a MoPH approved vaccine and they are exempted from quarantine requirements.
Regardless if you are coming to Qatar for work or visit, MoI added that travelers coming to Qatar through its land, sea and air ports will be subject to the requirements and procedures set by MoPH.
Whether with regard to those who have been vaccinated with vaccines approved in Qatar or those who will be subject to quarantine procedures approved in the country, everyone is required to comply with the travel requirements to limit the spread of COVID-19.
If you are hiring new employees to work for your company under family visa sponsorship, this reliable recruitment agency specializing in staffing solutions in Doha can give you the best assistance you need.