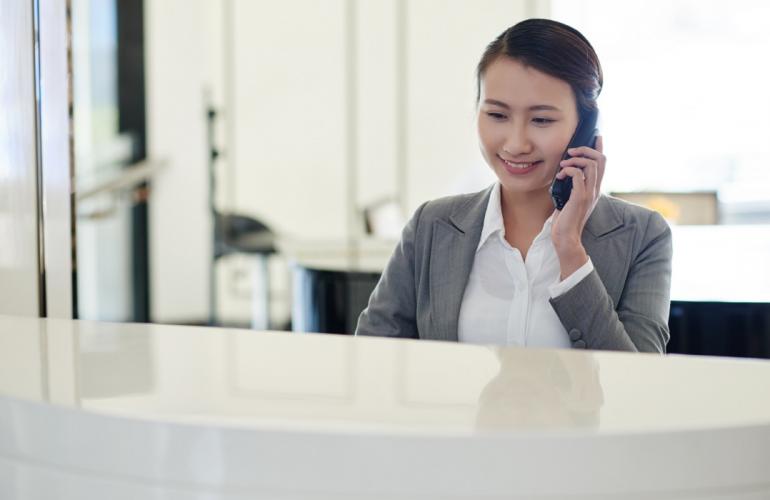 Working in an education sector can be an arduous path for an individual but also very stimulating and intriguing to interact with students from all kinds.
Here the role is not a faculty or teacher, but a receptionist in the campus who will be welcoming the students with great smiles and assistance on board.
To get a job in Qatar is not very difficult task especially in the universities due to the wide range of colleges housed including Qatar University, Texas A & M University, Georgetown University in Qatar, Well Cornell Medicine, Northwestern University in Qatar and many more.
However, if you are fluent in reading, writing and speaking Arabic in addition to having a sound knowledge in English, you are in the right page.
To be hired as a receptionist from any of the universities in the country or from the above-mentioned list, a leading outsourcing in Qatar can make your dream come true.
The expertise in this recruitment agency – B2C solutions have a success-driven mind in achieving the target goals of the companies / institutions.
The specialists with years of experience enables its clients to find the right person for the jobs and also works vice versa.
B2C has partnered with various reputed organisations in the country including government firms such as Sidra Medicine and Qatar's public works authorities.
By assisting many firms in finding the right talent, the hiring company has been one of the most frequently approached companies in Qatar.
In addition to hiring receptionists, the agency also hires and covers all areas including Administration jobs, Accountant specialists, medical professionals, IT and HR professionals and other jobs related to the world cup that is scheduled for next year in Qatar.
As a proud Qatari recruitment firm, B2C offers its services with the best package and gives a complete satisfaction to all its clients just like all its previous services.
Some of the main roles, skills and responsibilities of a receptionist who would be working as a receptionist in the campus institutions are as follows:
• Provide a welcoming, courteous and efficient reception service for students, visitors and contractors.
• Ensure that the reception area is welcoming, attractive and comfortable for visitors at all times and that, when appropriate, arrangements are made to meet individual needs.
• Implement booking-in arrangements for all visitors and contractors in accordance with agreed College procedures.
• Respond to enquiries from personal callers and direct students and visitors to appropriate locations on the site.
• Receive, record and pass on enquiries to the appropriate person in a timely, efficient and courteous manner.
• Provide a service for the receipt and distribution of forms/leaflets and other information to students, staff and visitors, as required.
• Carry out a range of administrative tasks to support the Campus
In addition to the above, for a resident in Qatar must also have a valid QID and should be willing to be assigned or rotated in different universities across the country.
Given the main responsibilities above, B2C experts makes sure a potential candidate has all of them and shortlists accordingly doing the work of an HR.
To get the best of their service, connect with B2C and hire the most suitable campus receptionist for your college.