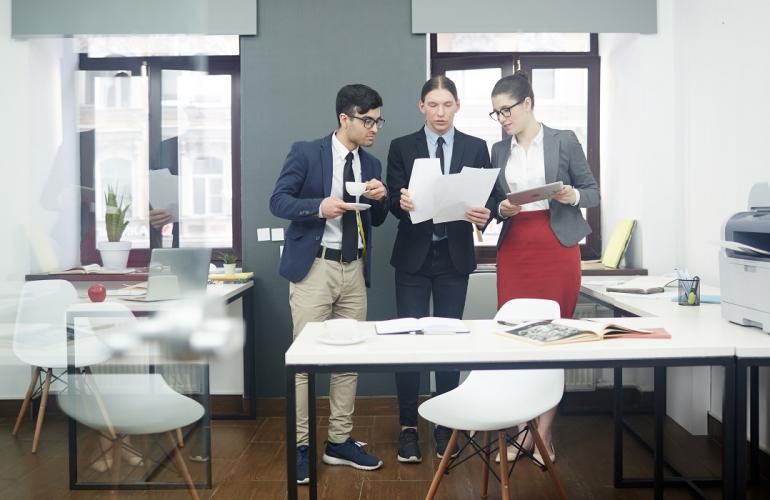 Accounting professionals are always needed in all types of industries. Irrespective of the nature of your enterprise, accounting recruitment happens to be a highly crucial requisite.
Without the efficient management of your accounting operations, it will become difficult for you to take your business goals forward.
Whether you operate in the industrial arena or the service sector, accounting human resources will be critical to the success of your company. Accounting and finance have always ranked amongst the key business practices.
​The huge importance of finance and account management creates the demand for highly efficient accountants. With this, you need the assistance of a reliable outsourcing service in Qatar to assist you in accounting job placements.
The accountancy recruitment agency is the best thing to resort to when you need to hire multiple accounting manpower.
​Most of the industries nowadays do not take the entire cumbersome hiring task by themselves. Instead, they outsource the activity to some accountancy recruitment consultants, like B2C Solutions, and get the manpower sourced from them.
​B2C offers highly efficient and targeted accounting recruitment services and finance staffing solutions. With its highly skilled, reliable, and dedicated team of recruiters, it emerges as one of the leading finance and accounting recruitment consultants in Qatar.
​The company's extensive network of accounting professionals, combined with its dedication to understand its clients' specific business needs, ensures that employees and employers are aligned for long-term success.
B2C supports accounting staffing in the following:
• Accounts Payable
• Accounts Receivable
• Accounting Clerk
• Auditor
• Billing and Invoicing
• Bookkeeping
• Controller
• Cost Accounting
• Credit and Collections
• General Accountant
• Payroll Specialist
• Tax Accountant
B2C's strategy-driven and comprehensive approach to accounting recruitment leverages years of experience in providing staffing solutions in Doha.
Why B2C?
​The accounting recruitment consultants of B2C are the best persons to approach for getting accounting-related manpower. They take away the entire headache of the whole recruitment process, thereby:
✓ Streamlining recruitment and selection processes
✓ Accelerating time to hire
✓ Shortlisting candidates
✓ Optimizing job descriptions and screening to ensure best fit
✓ Managing and improving digital presence and branding to reach applicants
With B2C's most efficient and skilled finance recruitment service providers by your side, you can experience complete peace of mind while building a skilled and competent account management workforce.
​If you're looking for accounting job recruiters in Qatar, get in touch with B2C today, for the best recruitment service experience!