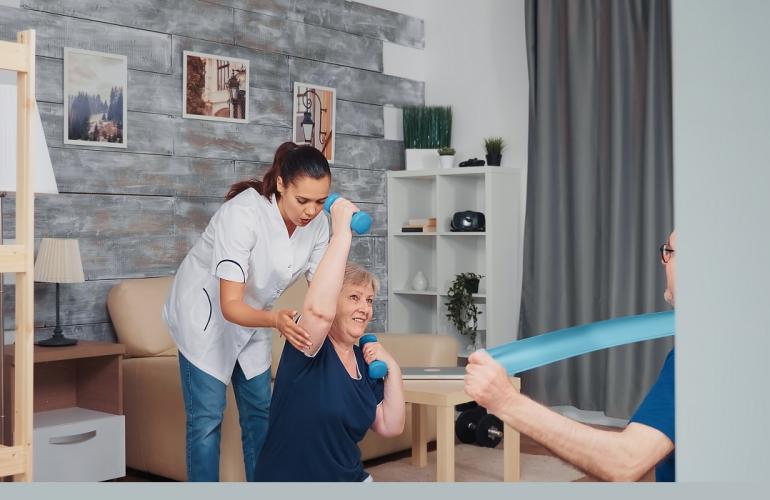 As the world continues to grapple with the pandemic, the narrowing down of physical activities and exercises as a part of people's day-to-day routine has resulted in several health problems.
The prevalence of lifestyle and posture-related illnesses have called for therapists in Qatar ​​​​​​​to play an important role in the healthcare sector.
In the wellness industry, therapists are equally in demand just as personal trainers and fitness experts. Today, a shortage of physical and occupational therapists is felt in the country.
Therapists can benefit your facility in many ways. They are not just your fitness assistants but they also serve as doctors who practice manual body treatment instead of operations and medicines.
Is your facility in need of a skilled therapist today, tomorrow, this coming week, or next month?
To hire them, the best option is to partner with an outsourcing service in Qatar as they have the required skills and expertise to bring on board the most suitable candidates..
B2C Solutions is providing staffing services to address the therapy shortage for healthcare systems across the State by outsourcing therapists for them.
Increasing number of patients, demand spikes, hard-to-fill therapy roles? B2C leverages its experience and industry expertise to provide you with end-to-end workforce solutions.
Whether you're a home health provider, outpatient clinic, or part of a network of hospitals, experience uninterrupted patient care with custom job placements for the following options:
✓ short and long-term contracts
✓ temporary to permanent placements
Recruiters of B2C have flexible and on-demand access to qualified therapy experts from a single shift to several weeks.
The company can provide you qualified and licensed therapists as well as allied professionals in:
• schools
• hospitals
• nursing homes
• outpatient clinics
• skilled nursing facilities
• home healthcare agencies
• contract management companies
• and other facilities across Qatar
B2C specializes in recruiting the following:
• Physical Therapists
• Occupational Therapists
• Therapy Assistants
This recruitment agency in Doha has provided therapists and allied professionals to employers nationwide. It has a strong and continuous working relationship with SIDRA Medicine for the past 6 years, placing several medical experts in both government and private sectors.
From last-minute shift coverage to urgent manpower demand, B2C makes staffing simpler, so you can focus on what's most important — your business and the people you serve.
B2C has been a leader in therapy recruitment in Doha. It has an extensive pipeline of skilled candidates allowing continuous availability of staff for you.
Partner with the therapy provider invested in your success. Connecting with B2C is an opportunity to work with a company that ranks high in healthcare staffing in Qatar.
Submit a staffing request with B2C when you know you will be short on staff in the coming weeks or months.
Questions? Ask here.