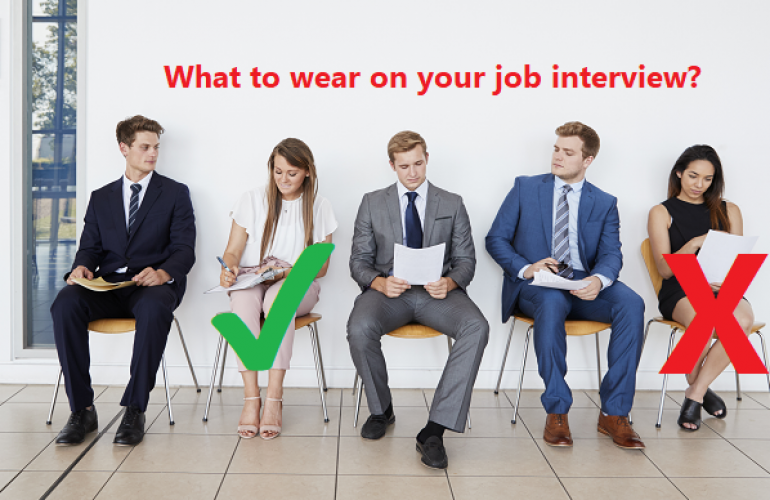 So, you've been actively searching for jobs in Doha and finally got a call from a prospective employer. Now, your goal is to make a good first impression on your interview.
How you dress is important as it will make or break your chances to land the job. Successful job interviews depend on how well the applicants answer questions and present themselves.
Note: While you're eyeing for a killer interview outfit, you need to take into consideration the culture of the organization you're applying to. Wear an outfit that is comfortable, professional and conservative.
In this article, we give you more tips on what to wear and avoid wearing to make sure you look your best on that big day.
DO's
Apply now to thousands of jobs in Doha now hiring online! And, when you get that job interview appointment, don't forget to follow this helpful guide on choosing the best outfit to wear.
• Wear a business casual attire.
But, what does business casual actually mean?
Also called 'smart look,' business casual means dressing professionally without being overly formal.
You can't go wrong with stepping up from your pair of jeans and t-shirt and stepping down from 'very formal' business attire. Often a company's default dress code, this type of outfit is a smart option for job interviews.
Remember: A programmer applicant at a tech start-up would probably dress a little differently from someone interviewing for a top manager's role.
• Choose neutral colors and simple patterns.
For Women
Try these more decent-looking upperwear must-haves for a simple and professional look:
Tops
- a button-down shirt paired with a cardigan
- a simple blouse with a casual blazer
- a navy blue blazer or a knit sweater
Mix N' Match
- Blend your casual dress with a cardigan and simple belt.
- Pair your plain top with black or navy slacks or a pencil skirt (knee-length or longer).
- If you're wearing a button-down shirt, tuck it into your pants or skirt for a polished look. - Wear professional-looking khaki or cotton pants
Footwear
- comfortable, closed-toe shoes
- black or brown closed-toe flats
- pumps or low heels
Accessories
- simple and professional jewelry
- simple hoop or stud earrings
- delicate necklace and one or two simple bracelets that don't jangle
Is it fine to wear nail polish during job interviews in Qatar?
Yes. However, ensure your nails are well-manicured. They should be clean and cut neatly. If you wear colored nail polish, make sure it's a neutral shade. Choose the sheer colors: beige, taupe, or clear ones.
For Men
Tops
- collared shirts with long sleeves
- light-colored, pressed button-down shirt with long sleeves and a collar (Tip: make sure it's neatly tucked into your pants).
- a knit tie with a simple pattern or solid color (optional).
- nice sweater over a button-down shirt (for a polished business casual look)
- a grey, black or navy blue blazer
Chino Pants
- Crisply pressed cotton pants
- light-colored chinos or khakis
(Tip: Stick to neutral colors like grey, black, brown and navy blue to match many shirt colors).
If you're not sure if jeans are appropriate in the office, wear chinos instead.
Footwear
- dark shoes with matching socks
- dark-colored, freshly-polished leather shoes
- brown or black loafers
- Oxfords or another professional closed-toe shoe to compliment your outfit.
- mid-calf length dress socks that match your trousers
Accents
- classic wristwatch with a metal or leather band
(Tip: remove any distracting jewelry, such as earrings, necklaces or bracelets)
- a leather belt that closely matches your shoe color
- simple pocket square to a blazer pocket to complete the look.
- matching suit and tie.
DON'Ts
Looking for jobs in Doha requires a lot of hardwork and you don't want to miss any meeting with a potential employer. Ace that job interview by dodging these pesky no-no's:
Refrain from doing any of the below:
- eating or smoking till after the interview
- splashing on too much perfume or aftershave
- forgetting to iron your clothes properly and polish your shoes
Avoid wearing the following:
- too much jewellery or too many accessories
- scuffed, scratched or dirty shoes
- too short skirt and skimpy dress (Tip: You can test this by standing and placing your arms straight down your sides. If the hem of your skirt is shorter than the end of your fingers, check for a longer option)
- slouchy or oversized sweaters, ill-fitting clothes, plunging necklines and fabric that wrinkles easily
- polo shirt even if you're interviewing at a laid-back company
- strapped sandals, open-toed footwear, flip-flops, sky-high stilettos, sneakers or brightly colored shoes
- chunky, large or distracting bracelets, necklaces and earrings.
- athletic socks and sporty shoes
- tank tops or shirts with thin straps
- short pants
- underwear that sticks out from your clothing (like exposing top of your boxers, briefs, etc. top of your pants or skirt, or bra straps)
- shirts with too-low necklines or that expose your belly
- perfume or cologne (Note: Some scents are irritating to others. In a small meeting room, smell can become distracting)
TIPS
1. Do a dress rehearsal
- Try on your complete outfit a few days before the interview to ensure everything fits properly and looks clean and professional.
- Do a mock interview with a friend or family member while wearing your interview outfit to see how it fits and feels.
- The night before, check your outfit one last time for any wrinkles, stains, holes or pet hair.
2. Make your hair neat and in place.
A bad hair day can greatly affect your appointment. So, work on your crowning glory and shine on your interview.
Remember: Whatever you plan to wear on your job interview should look and feel comfortable for you. If it doesn't, you won't be able to focus and your interviewer may notice it.
3. Research the company.
Before choosing an interview outfit, consider the role and industry of the firm you're applying to determine how formal their workplace is.
You may check its website and social media pages to have some ideas on their dress codes.
For example, if you're applying for a corporate position in finance or law, wear a formal business outfit.
Nothing says, "Hire Me" interview attire than a tasteful and tailored outfit channeling your inner 'confidence.'
Deciding what to wear for a job interview may take a toll in the preparation process. But, by preparing ahead and applying the above checklist, you're sure to get one step closer to signing that employment contract!