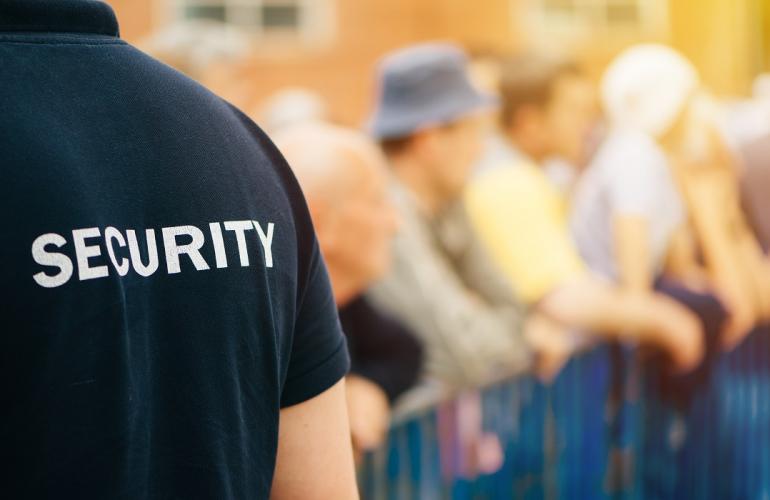 Security guards play a crucial role in protecting the things that matter most. They protect people and property from harm. But, their duty doesn't end there.
The specific duties of security officers vary depending on the needs of the customer. In general, they act as a deterrent.
Anybody can be a security guard, whether he or she is a male or female aspiring candidate. An individual interested in the security field can apply as a:
• Security Guard
• Security Officer
• Field Security Associate
• Loss Prevention Officer
• And other roles
Guards can usually be appointed in:
• retail establishments
• construction sites
• hospitals or guarding VIPs
• high-profile executives
Their main jobs are to:
• prevent a crime from happening by proactively watching for suspicious behavior
• mitigate risks as they appear and contact the proper authorities when an incident occurs
Simply put, security guards keep people, property and other valuable assets safe and secure.
Since they contribute an important part in everyone's overall protection, it becomes challenging for many companies to recruit the most reliable and skilled candidates for these roles.
This is where B2C Solutions comes to the rescue. This leading outsourcing service in Qatar selects from among carefully screened applicants, recruited to your specifications.
If you are looking to hire new security staff for your company, read on for some details about the security recruitment in Doha. Here are some of the points you need to know:
Qualifications
• An ideal candidate should be able to speak and understand English and most preferably Arabic
• Must have related experience or previous experience in the same capacity.
• Preferably with 1 year guarding experience=
• Preferably based in Qatar
Shift Availabilities:
• Day Shift
• Night Shift
• Overnight Shift
Educational Records:
• High school or equivalent
Salaries
• Salary ranges from QAR1,000.00 - QAR1,800.00 per month
• Salary usually depends on experience
Job Descriptions
Here are some of the typical duties and responsibilities of security guards in Qatar:
• Conducts investigations of security incidents.
• Operates and monitors security equipment like CCTV cameras.
• Carries out security assurance reviews, documenting and monitoring security risk.
• Ensures effective security programs and operations including guard force.
• Inspects and patrol premises regularly.
• Reports any suspicious behaviors and happenings.
• Submits reports of every suspicious action immediately.
• Ensures that all employees report for duty punctually wearing the correct uniforms and name badge at all times.
• Assists in the building of an efficient team of employees by taking an active interest in their welfare, safety and development.
• Ensures that all employees provide a courteous and professional service at all times.
• Assists in the training of the employees ensuring that they have the necessary skills to perform their duties with the maximum efficiency.
• Supervises the employees within the department. Ensuring that the correct standards and methods of service are maintained as stated in the department's operation manual.
• Ensures that the department's operational budget is strictly adhered to and that all costs are strictly controlled.
• Ensures that all employees have a complete understanding of and adhere to the hotel's employee rule and regulations.
• Ensures that all employees have a complete understanding of and adhere to the hotel's policy relating to fire. Hygiene and safety.
• Carries out any other reasonable duties and responsibilities as assigned.
• Conducts security briefings, as required.
• Communicates information on security issues.
• Secures premises and personnel by patrolling, monitoring surveillance equipment, inspecting buildings, equipment and access points.
• Meets and greets visitors and colleagues at all times.
• Exhibits excellent interpersonal skills.
• Protects visitors, colleagues, property, information and reputation.
• Assists and escort visitors and colleagues, as needed.
• Locks and unlocks facility doors at the instructed times.
• Check alarms and fire extinguishers to ensure they are in proper working order.
• Presents a professional appearance at all times.
• Perform other duties and responsibilities related to work, assigned by immediate supervisors.
Security guards who are safeguarding residential areas usually perform the following tasks:
• Ensures the safety and security of residents, employees and establishment needs during shifts.
• Initiates appropriate action to improve a hazardous situation in a timely manner.
• Be familiar with the location of fire alarms and firefighting equipment.
• Maintains and operates the CCTV and security system.
• Maintains surveillance of those areas that are frequented by residents and their guest.
• Ensures checks are conducted on fire panels, fire hoses, water outlets and fire barriers and all other safety equipment.
• Patrolls the property, assists sick and injured residents, guests and employees.
• Initiates and monitors investigations and compiling property loss correspondence.
B2C Solutions specializes in outsourcing candidates who can provide you the following security solutions:
• Armed and Unarmed Guards
• Construction Site Security
• Corporate Events
• Executive Protection
• Fire Watch
• Mobile Patrols
• Residential Security
• Retail Security
• Temporary Security Personnel
• Trade Show Security
• VIP and Personal Security
• Workplace Violence
Have questions? Ask one of B2C's recruiters now.