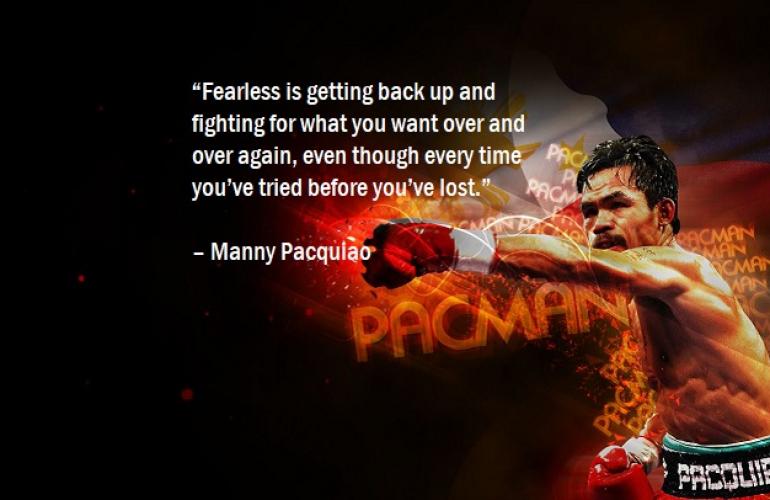 A homeless boy who slept on the streets of the Philippines, ended up becoming a boxing icon, a boxing legend, and the 'Greatest of All Time.'
Emmanuel Dapidran Pacquiao Sr., is a Filipino professional boxer and politician. Nicknamed "PacMan", he is regarded as one of the greatest professional boxers of all time.
"I've worked in construction, in a factory sewing clothes. I also sold flowers and doughnuts – just odd jobs to try to make a living."
He is the only eight-division world champion in the history of boxing. He is also the only five-division lineal champion. He is the oldest welterweight world champion and the only boxer who is a senator and a world champion at the same time — and the list goes on.
"I remember as a little boy I ate one meal a day and sometimes slept in the street. I will never forget that and it inspires me to fight hard, stay strong and remember all the people of my country, trying to achieve better for themselves."
What keeps the "Pac-Man" driven at this stage? Why did his fist feel so hard in the fight? Does he do certain training? Does he have more bone density in his hands? What does Pacquiao have that people are not aware of? Keep on scrolling.
Unstoppable World Champ
Many are baffled by how Manny Pacquiao still competes at the highest level despite his age. At 42, he still could go toe-to-toe with anybody at any given time, and whatever it is that the Filipino boxer has been doing, he does it with a never-say-die spirit.
How great of a legend Manny Pacquiao is?
• He has become one the World's Highest-Paid Athletes.
• He was chosen Fighter of the Decade for the 2000s by the BWAA.
• His 24 pay-per-view bouts have generated 20 million buys and an estimated $1.25 billion in revenue.
• He left longtime promoter Bob Arum in 2018 to sign with Al Haymon and his Premier Boxing Champions promotion.
• Pacquiao's 2015 bout against Floyd Mayweather remains the best-selling fight in the history of boxing with 4.6 million PPV buys.
• Pacquiao was elected to the Philippine House of Representatives in 2010 and the country's Senate in 2016.
Before reaping the above fruits of his hard work, let's take you back in time — from how he started his boxing career until he catapulted to the hall of fame.
As the fights got more serious, Pacquiao started getting more famous as well. He would beat fighters from South Korea, Japan and Thailand and at the very young age of 19, he won his first World Champion title by beating Chatchai Sasakul, the reigning World Boxing Council (WBC) World Flyweight Champion at that time.
The turning point for Pacquiao came when he won against world-class featherweight boxer Marco Antonio Barrera at the Alamodome in Texas with a TKO. After that fight, he was recognized internationally as a force to be reckoned with.
Pacquiao burst on the boxing scene in 2001, after he anonymously entered the front door of Freddie Roach's Wild Card Boxing Club, located above a strip mall in Hollywood, Calif.
The 22-year-old, five-foot-five, 112-pound Filipino had once sold doughnuts on the streets of General Santos City in the Philippines to survive before he turned to boxing.
Pacquiao throws a right jab against Lehlohonolo Ledwaba during an 2001 IBF Super Bantamweight Championship bout at the MGM Grand Hotel & Casino in Las Vegas. Pacquiao won by way of knockout after six rounds.
With barely 2 weeks' notice, he was an injury replacement on the undercard of an HBO pay-per-view championship fight against Oscar De La Hoya.
That night, Pacquiao not only won a world title but also stole the show from one of the most marketable athletes in history.
Seven years later, Pacquiao would electrify the sport by retiring Oscar De La Hoya in the exact same ring.
Pacquiao has fought 72 times across 27 years as a professional boxer. The talk among many fans and critics alike was that if Pacquiao were able, in the twilight of his career, to pull off a performance of the magnitude required to defeat Spence—in his prime, along with being bigger, stronger, younger—that résumé might well be unequalled in the annals of boxing.
Déja Vu All Over Again
People saw parallels between Muhammad Ali and Pacquiao when the former fought 14 times after Zaire (where Ali pulled off one of the great upset victories in boxing history over George Foreman).
Manny Pacquiao v Keith Thurman. Pacquiao gets ready for the start of his 2019 WBA welterweight title fight against Keith Thurman at MGM Grand Garden Arena in Las Vegas.
Still A True Legend
When Manny Pacquiao, four years older than boxing legend Muhammad Ali was in 1980—gets into the ring against Yordenis Ugas at the T-Mobile Arena in Las Vegas on Saturday, Aug. 21, he battled the ghosts of those greats before him as much as anyone wearing gloves and trunks.
"I know what Ugás is feeling," Pacquiao says. "Twenty years ago I was Ugás. I am taking him as seriously as I took Errol Spence," the Filipino boxing champ said.
In that fearlessness, Pacquiao looked at Ugás—an Olympic bronze medalist and Cuban defector who never shied away from top competition—and saw a younger version of … himself.
Despite his loss, many still paid homage to Pacman after his fight against Cuban foe Ugas.
Pacquiao a 'Legend Among Legends,' says Thurman
"Veterans can just outplay you, they can do things and Pacquiao… he's been through everything, he's been through everything a fighter can go through, from being knocked out, to winning all these world titles, to always being the small guy at 147," says Keith Thurman, who yielded his WBA belt to Manny Pacquiao in 2019.
"If only he did not commit those little lapses, maybe he would have emerged the split decision winner. Not the other way around, he added."
People have nothing but respect for Pacquiao despite settling for a fight against unified WBC and IBF champion Errol Spence Jr. first before Ugas took over as a replacement.
Unfortunately, the mega-bout against Spence did not materialize after the undefeated champion suffered a retinal detachment on his left eye two weeks before the match.
But, just by challenging Spence to a world title bout, also the vacant The Ring belt at stake, Pacquiao proved that he is a boxer of a different caliber.
Following the upset victory, people have to say nothing but good things and much respect for Pacquiao. His fans never thought he would pick that fight. Errol Spence is one of the best — if not the best welterweight.
It shows that he's a true legend and one of the fighters that people will remember as one of the best boxers in history.
Pacquiao has not fought since beating Keith Thurman in July 2019 to improve with 62 wins on top of 39 knockouts, seven losses, and two draws.
Read also: Expats Unknown Heroes Of Qatar - B2C solutions
'In My Heart, I Want to Continue to Fight': Manny Pacquiao Isn't Ready to Retire"
Saturday night's loss may have signaled the conclusion of Pacquiao's time in the ring and hampered his run for the Philippine Presidency.
The assembled knew that an eight-division world champion hoped to summon more age-defying magic in order to launch a presidential campaign in the Philippines.
And while the defeat likely hurts his chances to become president of the Philippines next May, he has a lot of life ahead of him.
Consider all of that and there's only one logical conclusion: there doesn't seem to be any reason for him to continue fighting. Except the most important one: he wants to.
"In my heart, I want to continue to fight," he says. "But I also have to consider my body."
For now, his boxing future remains in doubt. If this is indeed The End, Pacquiao finished a career unlike any other.
Despite his loss during the Mayweather and Ugas match, he still has won the hearts of many boxing fans both in the Philippines and worldwide. His one-of-a-kind story will continue to inspire and it will always portray the journey of what millions of boxing fans continue to aspire for.
For more inspiring stories, visit www.b2c-solutions.com.