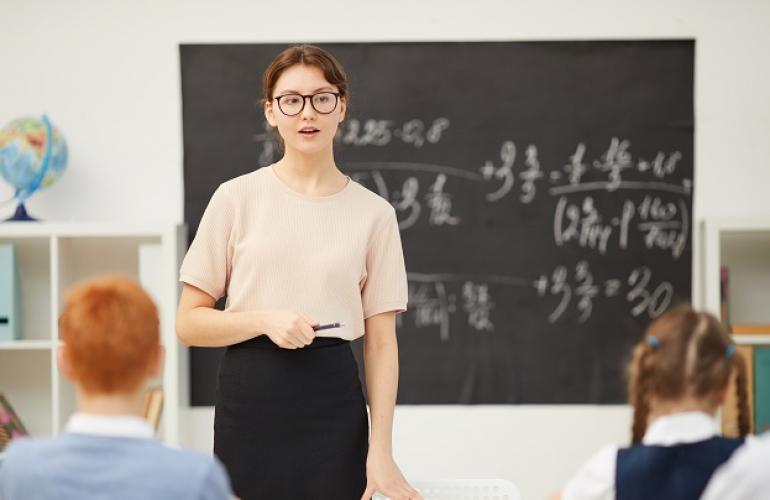 Are you applying for a teaching job in Qatar? If you get a chance to be contacted by a potential employer for an interview, increase your chances of getting hired by preparing for it.
You may be asked on the following basic questions:
• Why would you make a good candidate for teaching in Qatar?
• How would you communicate with non-English speaking parents?
• What do you know about Qatar and why does it appeal to you?
• Why do you want to teach in the Middle East/abroad?
• How would you deal with a classroom of students with low English proficiency to high proficiency?
Did you know? There is a staffing solution in Doha that can assist you in finding a school to apply for a teaching job in Qatar. Contact them today!
You might also encounter some of these most common teaching job questions and answers:
What are your strengths as a teacher and how would they make you a good teacher for our school?
Example Answer:
"I am inspired by this school's reputation for educational excellence and for encouraging creativity through its renowned arts program. I am extremely motivated to introduce my teaching strategies. I feel confident that I could help students improve their scores and opportunities for success."

What is one example of a difficult challenge you faced with a student(s) and how did you overcome it?
Example Answer:
"The toughest challenge I've faced as a teacher is dealing with students with special needs in a regular education classroom that is not designed for that level of inclusion."
Why do you want to teach?
Example Answer:
"There's no job more important than teaching the future leaders of our world the information they need to know, but more importantly, showing them their worth, their potential, and their ability to form their own opinions by thinking critically and observing the world around them."
Confused on where to apply for school educator vacancies? A staffing solution in Doha can help you land your dream teaching job now.

Why do you want to teach in our school?
Example Answer:
"I would like to work in your school because of the excellent reputation it has for academics, athletics, and quality of education. Students are challenged to push themselves, giving them the opportunity to succeed. It is also well known that the parents are active in their children's education and I believe that is one of the most critical aspects of a successful education. I believe the teachers here are passionate about what they teach and it shows with performance and test scores."
Why do you choose our school apart from other institutions?
Example Answer:
"I look up to your school's educational system. Your focus on academics and community fit perfectly with my own philosophy. The best lesson plan in the world can't help a child who's struggling in all other areas of life."
What is your teaching philosophy?
Example Answer:
"I believe in teaching each student's passion. For instance, if my students have trouble with punctuation, I fuel their passion with books on punctuation. Whenever possible, I try to deliver structured lessons in an unstructured way like this."

Walk me through a typical lesson.
Example Answer:
"This requires a bit more preparation than a typical interview question. Show the interviewer an example lesson from a previous role (whether you were a teacher or taught something to someone at work). If not, demonstrate a quick lesson plan you might like to give. Highlight the parts of the lesson you would improve."
How would you get your classroom ready for the first day of school?
Example Answer:
"I want my classroom to be welcoming and nurturing. I also make the ground rules obvious. A welcome sign and labeled desks help students feel at home from day one. Engaging posters and other visual aids help create a sense of excitement. Beyond fun, a large list of rules and consequences at the front of the room helps the class start on the right foot."
Do you have any questions for us?
Example Answers:
"Yes, thank you. I just wonder:"
- What qualities make someone successful to work in your school?
- How would you describe the culture of the school?
- What qualities do you look for in a candidate?
- What are some of the school's greatest achievements?
- What extracurricular activities are offered to students?
Hundreds for teaching positions are now being offered online. Discover daily job hiring opportunities from staffing solution in Doha.
How do you interact with parents?
"A child's education depends on the support of his or her parents. I believe that engaging with parents and making sure that they have an active role in their child's success is vital. I give parents my contact information so they can get in touch and ask any questions they have about how their child is performing. I also provide updates about what my students have learned and accomplished."
Below is an additional list of possible questions that you might encounter during your interview:
• What strategies do I use to ensure how all students are learning?
• What are your strengths as a teacher?
• What's your biggest weakness as a teacher?
• Why did you leave your last teaching (or other) job?
• What's your educational background?
• Where do you see yourself in five years?
• How do you handle classroom management?
• What's your favorite subject?
• What do you like best about teaching?
• Tell me about your teaching style
• How do you manage your time to get all your teaching duties done within schedule?
• What's the biggest challenge today's students face?
• Describe your worst day in class.
• How do you motivate students to learn?
• How have you helped a "tough" student?
• What experiences do you have that would make you an effective teacher?
• What would you do if a student didn't want to learn? /How would I deal with students who may not understand the value of education?
• What does your classroom look like?
• What skills are you bringing to our school?
• How do you assess the students in your classroom?
• How would you differentiate instruction?
• What does rigor look like in your classroom?
• How would you work with a local principal who doesn't understand your teaching practice?
• If a parent who is friends with the principal argues over changing a student's grade, how would you handle this?
• How would you respond to a parent who interrupts your class to talk to you about their child's grade?
• What classroom teaching strategies/methods/approaches do you use in the classroom?
Check out the best answers to the above questions and practice answering them so you can successfully complete your interview.