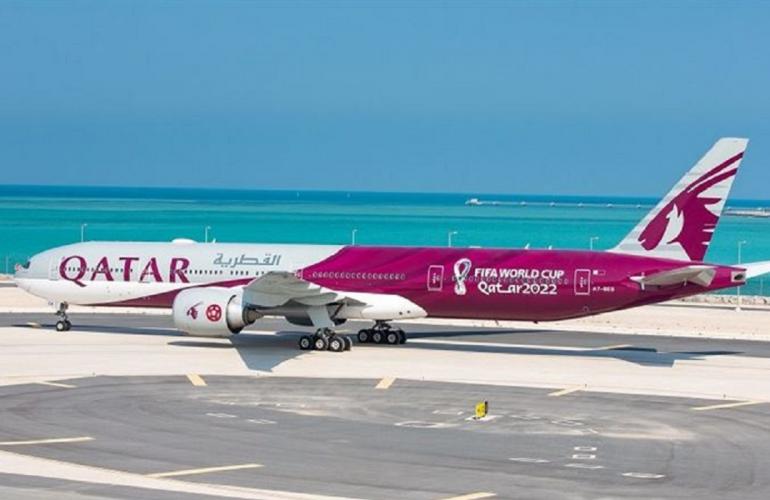 With just 9 months left for the much-awaited FIFA World Cup Qatar 2022™, football lovers and travelers can now book complete travel packages at qatarairways.com/FIFA2022.
Qatar Airways offers its hearty congratulations to Chelsea F.C. for securing FIFA Club World Cup UAE 2021™ title, which occurred on 12 Feb 2022 against SE Palmeiras. The official airline partner- Qatar Airways, was present at the Mohammed Bin Zayed Stadium for the prize distribution event.
Qatar Airways Group Chief Executive, His Excellency Mr. Akbar Al Baker, said- Qatar Airways is chosen as the official airline partner of this prestigious game event and competition. We saw an outstanding performance in the final. I applaud Chelsea for winning the game and admire Palmeiras for their amazing performance.
Previously, Qatar Airways sponsored the 2017 FIFA Club World CupTM tournaments. We feel proud as the Official Airline Partner in FIFA World Cup Qatar 2022TM. Fans from all parts of the world can get amazing hospitality services on our flights.
As FIFA World Cup Qatar 2022TM, is just a few months away, footballs fans can book travel packages with Qatar Airlines, get preferred seats for favorite machines and support their beloved team. They can choose from seven-tiered travel packages which include flights, match tickets, and stay options at qatarairways.com/FIFA2022
Qatar Airways has already sponsored the tournament in 2017 and 2018, held in the UAE. It also hosted FIFA Club World CupTM tournaments in 2019 and 2020 continuously. In December 2021, the FIFA Arab Cup Qatar 2021TM displayed that the nation is ready for the upcoming FIFA World Cup Qatar 2022TM. Qatar Airways appreciated Algeria for winning the prestigious trophy. Game lovers had a poignant feeling. Screens displayed messages 'The World's Best Airline' and 'See You in Qatar 2022'.
The national carrier also sponsored the 2021 CONCACAF Gold Cup and the UEFA Euro 2020™. It holds an outstanding global sports partnership portfolio including football-governing bodies such as FIFA, CONCACAF, and CONMEBOL. Furthermore, it sponsors a few biggest football clubs in the world such as Paris Saint-Germain, FC Bayern München, and Al Sadd SC.
Currently, Qatar Airways offers its services to more than 140 destinations and has been building its network fast. It is adding more airplanes to its fleet and increasing travel frequencies between popular destinations. Qatar Airways has won several awards and was declared the 'Airline of the Year' by the international air transport rating organization, Skytrax. It carries a reputation of being the Best Airline in the Middle East, the World's Best Business Class Onboard Catering, World's Best Business Class Airline Seat, World's Best Business Class Airline Lounge, and World's Best Business Class. It is a leading playing in the airlines Industry and has won prizes 6 times ((2011, 2012, 2015, 2017, 2019 and 2021).
The Skytrax World Airport Awards 2021 declared Hamad International Airport (HIA), the airline's hub as the best airport in the World.
As Qatar is getting ready to welcome the most watched and embraced global tournament, more jobs in Qatar have been available for residents and workers in and around the world.
This tiny but robust peninsula has predicted that hosting the international game will create more than 1.5 million job opportunities in Doha in key sectors like construction, real estate, and hospitality.
Looking for the best recruitment agency in Qatar? Partner with B2C Solutions for all your hiring needs. Get in touch with them by sending an email to business@b2c-solutions.com.
If you are a job seeker in search of jobs related to oil and gas, or actively looking for an immediate job, drop your CV to jobs@b2c-solutions.com.