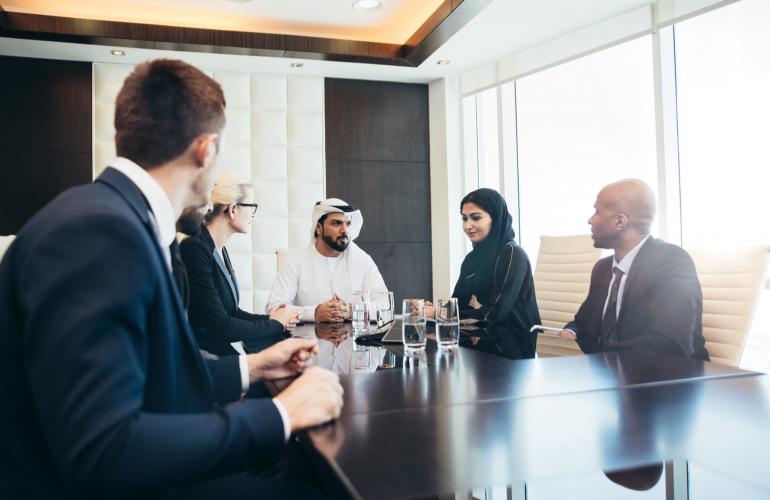 Top Jobs for Arabic Speakers in Qatar
Many people say that English is one of the most challenging languages in the world. They face difficulties in learning, writing, and speaking English. Do you know Arabic well and are willing to work in a good-paying job in Qatar? If yes, we have compiled a list of top jobs for Arabic speakers in Qatar. To make things easier, you must resort to permanent placement staffing services in Qatar- offered by B2C Solutions. It becomes quite convenient to seek employment made available by prestigious companies, avoid hassles associated with traditional job search, and ink better job contracts.
● Data Entry (Admin Assistant)
As an admin assistant in Qatar, you will be responsible for data entry and other administrative tasks. This fast-paced job requires attention to detail and good organizational skills. The pay is good and the working hours are flexible so you can enjoy your time there. Typing skills and familiarity with essential office software could be ideal!
● Office Administrator
If you're fluent in Arabic and have a business or administrative sciences degree, you may be interested in a career as an office administrator. This is a high-paying position that requires a lot of behind-the-scenes work. As a result, office administrators often have contact with clients and are required to speak Arabic. The salary range for this position is between QAR 45,000 - 65,000 per month, depending on qualifications and experience.
● Administrative Assistant
The administrative assistant is a highly sought-after job in Qatar. The country is in dire need of efficient and organized individuals who can handle clerical tasks. In addition, Arabic-speaking assistants are in demand due to Qatar's increasing population and need for translators and interpreters. Arabic speakers can pursue any job in Qatar.
● Store Manager
If you're fluent in Arabic and want to work in Qatar's retail industry, you'll need a degree in business or commerce and at least two years of experience in an operational role. With this in mind, it's essential to know that the store manager is responsible for the overall operation and management of a retail store.
They are in charge of hiring, firing, disciplining staff, and managing inventory. A good store manager must have excellent customer service skills and knowledge about merchandising and business operations. If you're interested in a career in Qatar's retail industry, get ahead by studying for a degree in business or commerce.
● Customer Service Assistant
This position involves dealing with customers face-to-face, on the phone, or over the internet. Therefore, good communication skills are essential, as is a knowledge of Arabic and Islamic culture. The customer service assistant should also be able to handle difficult situations calmly and effectively.
● Senior Sales Associate
A senior sales associate position is perfect for you if you're looking for a career change and want to work in a company selling products or services to the public. In this role, you will make sales targets and meet deadlines. You must also have excellent customer service skills and handle difficult situations calmly and intelligently. Having a high school diploma or equivalent experience in sales-related fields is essential, as is having a good understanding of the Arabic language. If you meet all these requirements and are interested in working in Qatar, apply today and start your journey to success!
● Laboratory Technician
If you're looking for a challenging and rewarding job, look no further than the laboratory technician field. This field is proliferating in Qatar, and there are various opportunities available to those ready to take on the challenge. As a laboratory technician, you'll be responsible for handling multiple tasks.
These can range from performing routine measurements to preparing samples for testing. To be successful, you'll need strong problem-solving skills and a good sense of detail. You'll also need excellent organizational abilities and attention to detail. If you're interested in this field, start learning more about it by reading up on the different laboratory technician jobs available in Qatar. Then, start preparing yourself for a career in this exciting field. Contact B2C Solutions- the best outsourcing companies in Qatar- regarding this. They will help in the job hunt with outstanding HR services.

● Security Officer
If you're looking for a career that offers excellent pay and benefits, look no further than security officers. Arabic speakers who want to work in this field should have good communication skills and handle stressful situations calmly. Qatar security officers enjoy excellent salaries and benefits, including health insurance and paid vacation days. This is a perfect option for those who want to start their own family and live comfortably in a stable country.

● Arabic Teacher
The demand for Arabic speakers in Qatar is growing, and many jobs are available for Arabic teachers. As a teacher, you will need a degree in either linguistics or literature from an accredited university. In addition, you will need good public speaking skills – Arabic classes are often held in groups and require students to give presentations on various topics from time to time. If you have a passion for teaching and a good degree, the job market for Arabic teachers in Qatar is booming!

Frequently Asked Questions

● Do I Need A Visa To Work In Qatar As An Arabic Speaker?
You do not need access to work in Qatar as an Arabic speaker. However, applying for a residence permit may be best if you are looking to live or work in Qatar for an extended period. Currently, many jobs cater specifically to Arabic speakers - translating documents, social media posts, customer service, etc.
● Can I stay in Qatar long-term as an Arabic speaker?
Yes, it is safe for Arabic speakers to stay in Qatar as long as they research and know the country's cultural and religious factors. Remember that Qatar is a Muslim country, so it is essential to respect local customs and norms. If you are looking for long-term work or residency, the best option is to consider sponsoring your application through an employer. There are many other ways Arabic speakers can find a job in Qatar, such as private businesses and Qatari government agencies. Remember to search and make the most thoughtful decisions for your safety!
Resort to the best outsourcing companies in Qatar, apply for the available jobs, and get your application processed faster. B2C Solutions is always happy to help you find Qatar jobs that better match your qualifications.