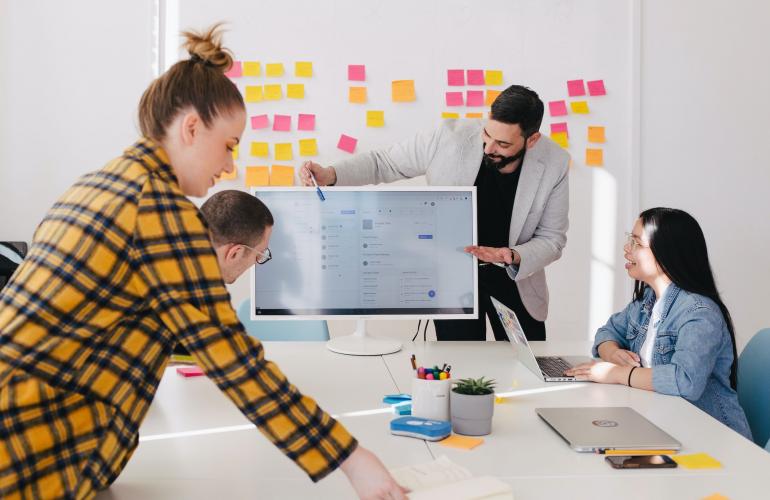 Finding A Job In Qatar in 2023- Our Guide!
Qatar is located in Southwest Asia and has a high GDP per capita. It is an attractive destination for investment and business development. The emergence of new jobs makes it possible to attract employees from other countries. Many professionals from almost 85 countries work in Qatar, earn good monthly incomes, and lead happy professional lives. The availability of multiple employment opportunities in different sectors, high salary packages, good working conditions, and various benefits encourage people to apply for Qatar jobs and move to the country as soon as possible. How to get a job in Qatar in 2023? Read our guide based on the recommendations of our HR experts and managers.

What Is The Current Situation of Jobs And Employment In Qatar?
At a time when companies in different countries are firing employees because of the higher probability of an upcoming recession and freezing the recruitment of new employees, Qatar's job market seems stable. The sale of petroleum and gas powers its economy. Qatar's companies and business organizations are offering professionals many jobs in 2023. So, you can quickly get suitable jobs and maintain financial stability in Qatar. B2C Solutions, the best manpower outsourcing company in Qatar, offers a helping hand to all those willing to get a suitable job in Qatar.
Salaries In 2023 In Qatar
Qatari companies offer higher salaries and good working conditions, so Qatar has become a famous job market in Asia. Recently, it successfully organized the FIFA World Cup, which boosted Qatar's economy. As a result, the demand for working professionals increases yearly.
The average salary in Qatar on construction sites is $1000 (QR 3641). Specialists in supervisory or site manager positions can earn $7000-$12000. The minimum wage in Qatar is QR 1100, and the average is QR 14,600. With this money, a worker and his family can live since housing and food are inexpensive. Your earnings depend on your chosen field, education, work experience, etc.
What Jobs Are In Demand In Qatar In 2023
A developed economy and stability in the country make Qatar attractive to migrants. A lot of vacancies are available for qualified and unskilled specialists. The country is constantly receiving investments, and its economy will become the most successful among the states of the Persian Gulf soon. Qatar is famous for jobs and employment in different sectors such as hotels and restaurants, IT, medical, aviation, engineering and construction, tourism, etc.
Features of Working In Qatar And Family Relocation
Once you get a job in Qatar and an entry visa, you can count on registration with a sponsoring company. A mutually signed employment contract mentions wages, privileges, position, and work hours. The employer must send the contract to the Ministry of Administrative Development in Qatar for review and approval.
Qatar has a sponsorship recruitment system. Having received a vacancy, the employee must work under the contract for at least two years and obtain a NOC. Only then is it possible to change jobs within the country. People with a salary of at least QR8,000 can transport a family. The man receives additional sponsorship and issues a visa for six months for his relatives. Visitors are not entitled to a social package and benefits for expanding housing. To get an invitation, you must provide certificates of marriage, the birth of children, and wages.
A visa is granted to each family member separately, regardless of age. Women with family sponsorship can get permission from their husbands to get a job. With an additional application, all family members receive free medical care, and children receive the opportunity to study. The head of the family must obtain an exit visa to leave the country; this document is not required for the wife and children.
Social Guarantees For Foreign Citizens In 2023
In Qatar, labor guarantees are strictly enforced. Since the employer continues to pay the total wages to the employee, in the event of an injury at work, he ensures safety with exceptional care for another six months. The employee signs, having received information about all the risks.
In Qatar, women can work only with the permission of their husbands. Families of foreign citizens have the opportunity to receive medical care. Also, school-age children can receive education in public and international schools.
Required Documents
To obtain a work permit, a foreign citizen will need to collect a package of documents:
● Copies of a valid passport;
● Educational qualification degrees,
● No criminal records- NOC from the local police headquarter in your country,
● An employment agreement from a Qatari company, as per the generally accepted pattern,
● Receipt confirming the payment of the consular fee.
Step-by-Step Process to Get A Job in Qatar: B2C Solutions Make it Simple!
Getting a job in Qatar becomes more manageable if you start with B2C Solutions, the best manpower company in Qatar. Here is the standard process that you need to follow:
● Contact B2C Solutions, communicate your job requirement with our HR professionals, and share essential documents, such as an updated resume, the latest passport-size photos, and images. Then, our HR experts will search for jobs as per your qualifications.
● Once suitable job matches are found, we will conduct interviews on the company's behalf and test your qualifications for available vacancies.
● You need to answer all questions correctly and let our experts feel you are the right candidate for the job. Sharing inaccurate information during interviews can lead to the termination of job offers.
● If you qualify for the interview, the employer prepares the employment contract and shares the document with you. Examine all of the job's terms and conditions and give your approval.
● The employer sends the agreement to the Qatar Job Ministry for approval and review. You can enter Qatar and begin working as soon as officials approve your application for the job and issue you a work visa.
So, get started with B2C solutions today and find suitable jobs in Qatar in 2023 with our help!