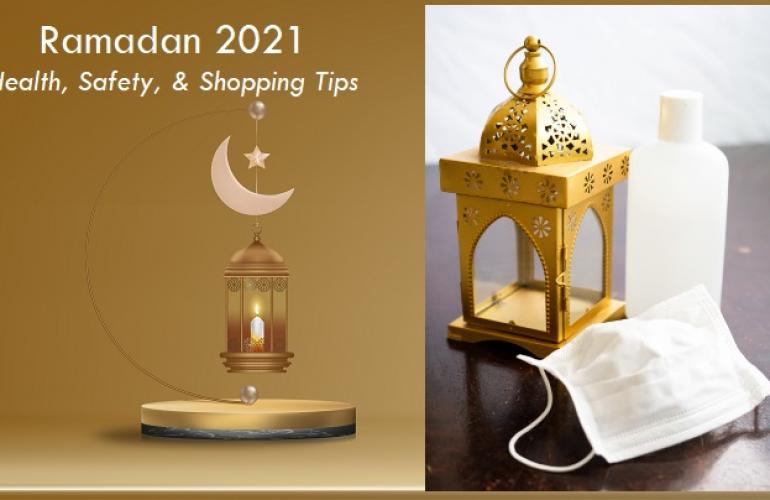 Due to the second wave of COVID-19 pandemic in Qatar, the holy month of Ramadan will be observed by Muslims in the country with strict health and safety precautionary measures this year.
In the whole month, Muslims refrain from eating and drinking from dawn to sunset, and reading Qur'aan and Du'aa to worship Allah.
Besides the spiritual and psychological benefits of this month, fasting during Ramadan has great health and social benefits.
If you are one of those who applied for jobs in Qatar وظائف في قطر and currently working in Doha, read this article: Are You a Non-Muslim Expat Worker in Qatar? Check out these Do's and Don'ts During Ramadan for your guide.
Shopping Tips
Plan your shopping ahead to avoid peak hours. Remember: Most markets are closed on Fridays and Saturdays as part of the restrictions to curb the COVID-19 spread. This leads to heavy footfall in shopping malls during weekdays despite the reduced capacity as people stock up ahead of Ramadan.
The Ministry of Commerce and Industry (MoCI) offers discounts on consumer goods, especially for the essential commodities consumed during Ramadan, such as flour, sugar, rice, pasta, chicken, oil, milk, and other food and non-food items.
Based on the MoCI list, here are some of the product rates:
- QFM Flour No1 (5kg) will be sold at QR16
- QFM whole wheat flour (10kg) at QR22.25
- R S Olive Oil (500ml) at QR11.25
- Yara pure sunflower oil (1.8litre) at QR15
- Baladna fresh yogurt full fat (2kg) at QR10
- Dandy Laban - Airan (2litre) at QR6.75
- Lurpark butter (400gram) at QR14.25
- Dandy orange juice (1.5litre) at QR8.25
If you are still looking for job opportunities in Qatar فرص عمل في قطر and planning to work in this country, another thing to be aware of is: Who is exempted from fasting during Ramadan? Learning the state's religious activities is part of one's duties as an expatriate.
Health Tips
Here are some tips shared by Hukoomi - Qatar's eGovernment Portal for receiving the holy month and maintaining a healthy fasting:
• If Ramadan comes in hot summer months, it is necessary to increase fluid intake and to pay attention to the quality of food to maintain proper health and enjoy the worship of fasting.
• If you have a specific health condition, it is advisable that you consult your doctor before you fast.
• Even if you are generally healthy, you should pay attention. Be sure to prepare your meals and arrange them in advance to ensure you get the right amount of fluids, nutrition and the rest you need.
• Suhoor is the most important meal in the month of Ramadan. Having it directly before dawn ensures you wake up for the Fajr prayer on time, and helps to fuel your body with energy while fasting.
• Avoid overeating when breaking the fast at sunset. Follow the Sunnah: break your fast with dates and either milk, water, or fruit juice. Focus on foods that are rich in complex carbohydrates, protein, fruits and vegetables.
• Serve a dessert of fresh fruit and nuts. These are healthier options than chocolates and sweets.
• Sip water throughout the evening to fully rehydrate your body – aim for eight glasses by bedtime.
• Light exercise for 15-20 minutes, is best done in the cooler evening hours. If you feel lightheaded stop exercising immediately.
• Seize the opportunity and quit smoking as Ramadan is a good chance to make such a decision.
• Speak to your doctor about taking a multivitamin supplement, especially if you are young, pregnant or elderly.
• If you are suffering from a chronic illness such as diabetes, kidney failure, and heart disease, you should consult your doctor before you start fasting to avoid more severe complications if you suffer dehydration
For Diabetic children:
• Diabetic children should not have repeated periods of low or high blood sugar when fasting.
• There should be careful self-monitoring of blood glucose levels during Ramadan.
• The diabetic child should measure their blood glucose levels when waking up in the morning and at 12 noon, 4pm, before breaking the fast, at 10pm and before Suhoor, and when necessary or on feeling symptoms of low or high blood sugar.
• Delay the Suhour meal, which should be taken shortly before Imsak.
• Take sufficient quantities of water and fluids at Iftar and Suhoor.
• Children with diabetes who depend on insulin treatment should keep a piece of candy in their pocket to eat when feeling symptoms of low blood sugar, so they can break their fast immediately.
For pregnant and breastfeeding women
• Women who have pregnancy complications such as diabetes, high blood pressure or anemia are generally advised to avoid fasting during the holy month of Ramadan.
• Breastfeeding women are also advised to have a general health check to ascertain their fitness and ensure their baby's well-being before undertaking fasting
Safety Tips
Qatar's health officials urged those who will fast during Ramadan to be aware of the warning signs of dehydration, heat stroke, and other forms of heat-related illness.• During the hottest days, stay in cool places (inside a building or under shade) and try to minimize physical activity and rest if possible.
• If you are fasting, you should try to stay indoors and avoid direct exposure to the sunlight and humidity.
• If you are working outdoors, you are advised to rest when the weather is hottest or to work in a shaded area when possible.
• If you enjoy sports, you are encouraged to exercise during the evening or indoors.
NOTE: While mild to moderate dehydration can normally be reversed by drinking more fluids, severe cases of dehydration and heat-related illness are medical emergencies and require immediate treatment.
Individuals most at risk of dehydration and heat-related illnesses during Ramadan include:
- those with chronic illnesses including diabetes and kidney diseases
- those over the age of 65
- patients with heart disease
- those taking multiple medications such as diuretics, which increase the production of urine
- those working outdoors during daylight hours, or in very warm or less-ventilated environments, such as factories, kitchens, or bakeries
For more safety tips at the workplace, seek advice from a recruitment firm specializing in outsourcing in Qatar.
Other Tips
• Look for Laylat al-Qadr in the last ten days of Ramadan and sincerely repent and pray.
• And finally, do not stop worshiping your creator at the end of Ramadan, let it be the beginning to other stations of worship and good deeds, as well as the first step to maintain a healthy lifestyle.
• Participate in the voluntary and charitable activities as the reward of good deeds is multiplied in Ramadan.
As Muslims welcome yet another Ramadan celebration amidst the pandemic, Qatar authorities have applied strict measures to ensure the safety of the worshippers and the whole community.