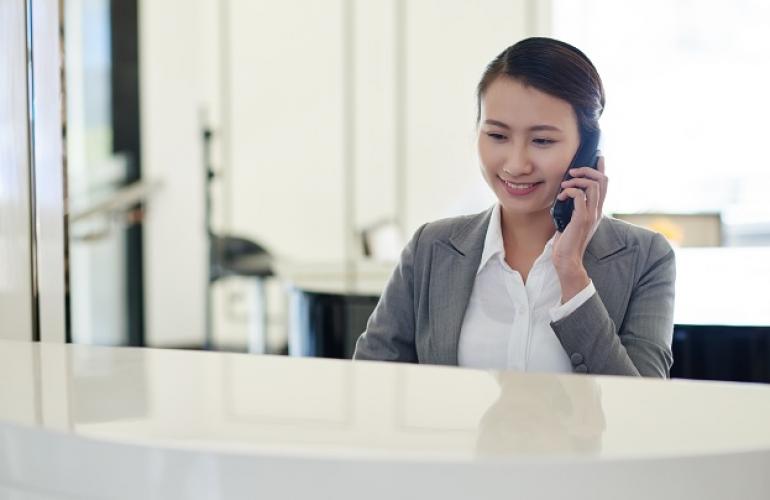 Finding a job could be very challenging in this highly competitive world. Having sound knowledge and experience is equally important to kick start a career in our desired field. Therefore, getting the right skills are essential for every job in Qatar. The hiring manager or recruiter ensures if you have what it takes.
This blog aims to enlighten you with how B2C Solutions can help you get to recruit and some of the most demanded skills or qualifications needed for individuals wanting to be a receptionist in the country.
B2C solution is one of the best and leading recruitment agencies that know your areas and will help in providing the right jobs. B2C solutions work professionally with Human Capital, catering to end-to-end HR solutions, strategic HR consultancy, talent acquisition, competency development, and training solutions.
As a proud 100% Qatari company with an ISO 9001:2015 Certification for Recruitment Services and ISO 27001 Certified for Information Security Management, B2C plays a major part in the recruitment sectors.
B2C also takes pride in helping many individuals hire such as 70% government clients, more than 20 nationalities from abroad, a database of 150,000 candidates, and 20,000 + payroll. B2C firm also provides end-to-end solutions with major industries like Healthcare, Information Technology, PR & Communications, Logistics and Procurement, Events & Entertainment, Banking, Engineering & Hospitality, and Oil and Gas.
Over half a dozen years, B2C has worked very keenly and constantly building relationships with major organizations and companies in Qatar such as Sidra Medicine, Ashghal – Qatar's Public Works Authority, and Huawei Qatar, and many more.
Therefore, if you are in need of a receptionist vacancy, B2C is the apt option you can choose to get to your dream position as they partner with many leading companies in the country.
Here are some of the major elements all outsourcing in Qatar will make sure to get the right person for the job.
Before we start let us look at some general responsibilities of a receptionist.
• Responsible for all appointment-booking tasks
• Well organized and detail-oriented
• Good communication skills
• Reschedules appointments and lets people know of any changes
1. First impression
A receptionist is someone who must make a good impression at first. It must be an individual who greets on the phone or person in a generous way that helps in flourishing the business goals. The first priority must be given to all clients that make you the perfect in the company.
2. Good personality
Customers and clients must always be kept in the first place and for that receptionist are the one that greets them at the beginning. Therefore, a good personality must be presented by the receptionist to enhance its business needs. Hence, it is vital to have a person who is very, friendly, enthusiastic, and passionate for the firm and helps all clients meet their respective needs.
3. Expecting the unexpected
Unlike all other employees, the receptionist must prepare themselves in challenging circumstances and should expect the unexpected dealing them nicely. Calls, feedbacks, uncommon and strange questions can all be common challenges they face each and every day. Make sure you have the right skills to be a part of the team in order to go to any extent it takes.
4. Excellent communication skills
As the front door individual welcoming all clients and customers, the most significant element required by the receptionist is to have excellent communication skills. Also, they should convey and communicate all necessities through phone and person giving proper guidance to all. Having excellent communication also refers to the proper way of communicating updates and changes in schedules or appointments in your office.
5. Being positive
Last but not the least, the receptionist must have the quality of creating a positive vibe in the organization. They must be able to attract new recruiters in the firm and must start and end the day with a positive smile on their faces. This could help the clients and workers have a cheerful day ahead. They should encourage and talk things out in order to become a valuable asset for the company.
With these five key elements, any outsourcing in Qatar will be more than happy to hire you so that business goals will be met.