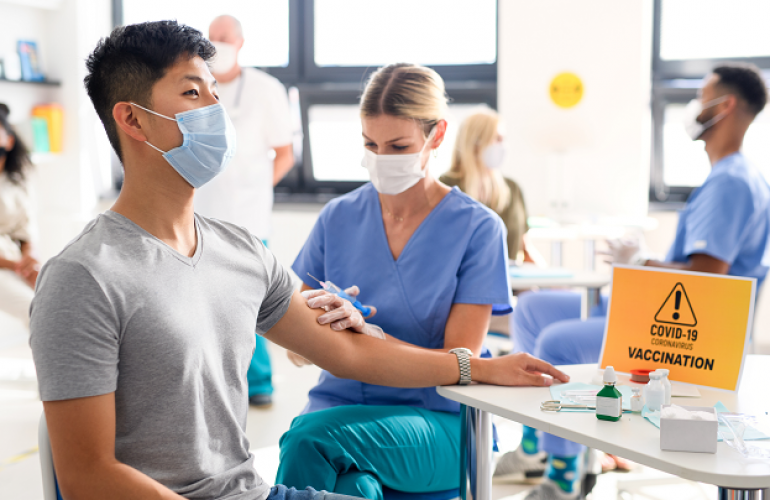 Want that job offer? A coronavirus (COVID-19) vaccine is recommended.
COVID-19 wiped out millions of jobs. But, the vaccination effort is bringing jobs back with more employment opportunities for vaccinated workers in Qatar.
Health authorities in Qatar believe that employee vaccinations are essential to keeping the workplaces and communities safe.
In fact, the Ministry of Public Health (MoPH) has set up a COVID-19 Vaccination Scheduling Unit (VSU) for the vaccination of business workers in support of the National COVID-19 Vaccination Program.
The Unit supports the vaccination of workers in all businesses, but prioritization would be given to key businesses that are in direct contact with the rest of the community such as:
• barber and hairdresser salons
• restaurants
• retail shops
• supermarkets
• hotels
• other hospitality services
Businesses – not individuals - can contact the Unit directly to schedule vaccination appointments for their staff: VCIA@hamad.qa
As the new COVID-19 cases are declining in the country, Qatar has also announced gradual lifting of COVID-19 restrictions starting May 28. This will take place in 4 phases, with a planned gap of three weeks.
To support the gradual easing of restrictions, it will be important that workers in the service industries are protected against COVID-19.
As more people in Qatar get vaccinated and businesses reopen during the ongoing pandemic, employment is on the rise in the country.
For companies hiring new employees, the best recruitment companies in Qatar like B2C Solutions, provides end-to-end HR solutions with its expert team of recruiters.
Read also: No More Lockdown? What Happens to Outsourcing in Qatar Industry as COVID-19 Restrictions are Lifted?
Business As Usual
COVID-19 forced most leisure and entertainment venues to close in 2020. Airlines have also been operating on a severely limited basis.
But, as fully vaccinated people are now allowed to travel in many countries, employment in commercial aerospace, airports, hospitality, and food service will most probably recover soon.
E-commerce and other virtual transactions are booming and this leads the society to shift to remote work. However, there is still a need for physical interaction including delivery services. Thus, if delivery drivers are vaccinated, they will have more chances to get hired.
For job seekers looking for immediate job placements this pandemic, they can contact B2C for quick results.
The leisure and travel arena require customer-centered workers in hotels, restaurants, airports, and entertainment venues. They are also considered as key workers who interact daily with crowds of new people, and thus needed to get vaccinated.
COVID-19 Vaccine Recommended
While leisure travel and tourism are likely to rebound after the crisis, several companies worldwide are mandating vaccines for both existing employees and new hires.
Some job posts require a string of necessary skills and the last requirement: a Covid-19 vaccination. They can legally request for vaccine proofs as a condition of employment.
As more people are expected to be fully vaccinated in Qatar, employers will most likely be on hiring sprees.
The demand for specialists who administer the vaccines is increasing, which brings new open positions. These newly posted job titles include:
• licensed practical nurses
• medical assistants
• lab technicians
• pharmacists
• truck drivers
• vaccine clinic clerks
• program coordinators
Most of these jobs are full time, with about half of the jobs advertised as temporary or contractor positions.
These new job postings boost the outsourcing in Qatar to fill vaccine-distribution-related jobs, particularly major pharmacy chains.
In other countries, fully vaccinated people no longer need to wear a mask or physically distance in any setting, except where required by government laws, rules, and regulations, including local business and workplace guidance.
In Qatar, MoPH and health officials continue to remind the public to adhere to the precautionary measures, vaccinated or not.
The Ministry calls on the people in Qatar to play their part in enabling life to return towards normal by getting vaccinated when it is their turn.
With B2C, speed up your recruitment process for new employees or increase your chances of getting hired once vaccinated. Contact them today by sending an email to business@b2c-solutions.com (for business enquiry) or jobs@b2c-solutions.com (for job enquiry).