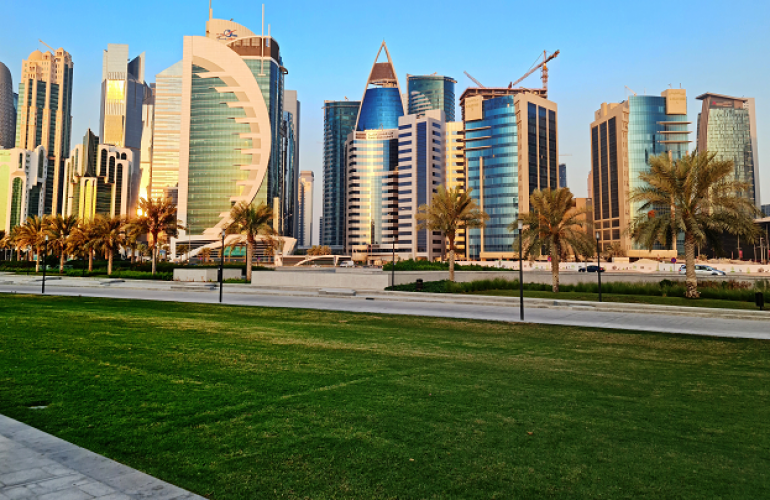 Qatar has an extremely low unemployment rate of less than 1%. Thanks to its strong economic growth and its efforts to diversify its resources to provide new career opportunities in Doha to all workers.
As the country's economy continues to grow, new job vacancies in Qatar are emerging across all sectors. Companies and government agencies welcome progressive hiring nationwide.
Therefore, whatever skills you have, there's always a job for you in this tiny peninsula. And, if you are a startup or an emerging company, you can always outsource your needed manpower with a pool of talents available in the country.
The type of personnel you hire will depend on the type of business you choose to start or improve. For a fast recruitment process, you need professional recruiters like B2C Solutions, the best outsourcing service in Qatar.
Since occupations in the frontline are among the most in-demand in Qatar today due to the recent coronavirus (COVID-19) pandemic, we've put together a list of job descriptions to get you started on hiring the right team for your business in the New Normal way of life here.
1. Registered Nurses
In light of the pandemic, nurses have always been at the forefront in providing the best healthcare service to the thousands of individuals affected by COVID-19. They are among the most wanted personnel during these unprecedented times.
Many establishments in the health sector are hiring more nurses whose tasks are:
• Assess patient health problems and needs
• Develop and implement nursing care plans
• Maintain medical records
• Administer nursing care to ill, injured, convalescent, or disabled patients
• May advise patients on health maintenance and disease prevention
• Provide case management. (Licensing or registration required).
2. Retail/Wholesale/FMCG Salespersons
Since the temporary closures of brick-and-mortar shops due to the outbreak, retail sales specialists have been highly in-demand in the market.
Those who are expert in selling merchandise, such as furniture, motor vehicles, appliances, apparel or most especially the consumers' basic needs — food and grocery supplies. This is why those who are in the Fast-moving consumer goods (FMCG) industry are also among the most-sought after skilled workers of today.
3. Stock Clerks and Order Fillers
People with knowledge on receiving, storing, and issuing sales floor merchandise, materials, equipment, and other items from stockroom, warehouse, or storage yard to fill shelves, racks, tables, or customers' orders are also needed this period. They may also be assigned to mark prices on merchandise and set up sales displays.
4. First-Line Supervisors of Retail Sales Workers
The main role of these employees is to directly supervise and coordinate activities of retail sales workers in an establishment or department. Their duties may include management functions, including purchasing, budgeting, accounting, and personnel work, in addition to supervisory duties.
5. Laborers, Stock and Material Movers
Those who have skills in manually moving freight, stock, or other materials or perform other general labor are also among the most sought-after candidates for jobs usually assigned in the warehouse. These include all manual laborers not elsewhere classified.
6. Customer Service Representatives
Agents who are trained to interact with customers to provide information in response to inquiries about products and services and to handle and resolve complaints are also needed nowadays.
7. Janitors and Housekeeping Cleaners
Workers who can keep buildings in clean and orderly condition are most wanted by employers now. Part of their responsibilities include:
• Perform heavy cleaning duties, such as cleaning floors, shampooing rugs, washing walls and glass, and removing rubbish.
• Tending furnaces and boilers, performing routine maintenance activities
• Notifying management of the need for repairs
• Cleaning snow or debris from the sidewalks
8. Software Developers and Software Quality Assurance Analysts and Testers
People who are professional in developing, creating, and modifying general computer applications software or specialized utility programs have great chances of getting hired today in Qatar. Their tasks may include:
• Analyzing user needs and developing software solutions
• Designing software or customized software for client use with the aim of optimizing operational efficiency
• Analyzing and designing databases within an application area
• Working individually or coordinating database development as part of a team
• Supervising computer programmers
• Developing and executing software test plans in order to identify software problems and their causes
9. Sales Representatives, Wholesale and Manufacturing
Employers in Doha are hiring more people who are expert in selling goods for wholesalers or manufacturers to businesses or groups of individuals. Their work requires substantial knowledge of items sold.
10. Maintenance and Repair Workers, General
Candidates who can perform work involving the skills of two or more maintenance or craft occupations to keep machines, mechanical equipment, or the structure of an establishment in repair have an edge to get hired immediately in Qatar.
Their duties may involve:
• Pipe fitting
• Boiler making
• Insulating
• Welding
• Machining
• Carpentry
• Repairing electrical or mechanical equipment
• Installing
• Aligning
• Balancing new equipment
• Repairing buildings, floors, or stairs
11. Secretaries and Administrative Assistants
In Qatar, there's always regular hiring for candidates who can perform routine clerical and administrative functions such a:
• Drafting correspondence
• Scheduling appointments
• Organizing and maintaining paper and electronic files
• Providing information to callers
12. Teaching Assistants
There's also a regular hiring for teaching assistants in many of the schools in the country. Their tasks include:
• Perform duties that are instructional in nature or deliver direct services to students or parents
• Serve in a position for which a teacher has ultimate responsibility for the design and implementation of educational programs and services
13. First-Line Supervisors of Production and Operating Workers
Jobseekers who apply for supervisory positions in the production industry have high chances in landing a job in Doha.
Their main responsibility is to directly supervise and coordinate the activities of production and operating workers, such as inspectors, precision workers, machine setters and operators, assemblers, fabricators, and plant and system operators.
14. First-Line Supervisors of Office and Administrative Support Workers and Clerks
Experienced supervisors who can directly supervise and coordinate the activities of clerical and administrative support workers are also in demand now.
They must monitor their subordinates as they perform duties too varied and diverse to be classified in any specific office clerical occupation, requiring knowledge of office systems and procedures.
Clerical duties are assigned to office clerks in accordance with the office procedures of individual establishments and may include a combination of answering telephones, bookkeeping, typing or word processing, stenography, office machine operation, and filing. The supervisor is always behind them to check their compliance with their tasks.
15. Engineers
While most people work and live in the capital city of Doha, new developments in the oil and gas sector have established new employment hubs, such as Dukhan and Ras Laffan.
Operations are clustered around several main oil fields, offshore and in the largest gas field in the world, the Qatari South Pars project. This brings many job opportunities in Qatar available – for both contractors and permanent workers.
To check the list of typical roles in the oil and gas industries, read this article: Oil and Gas Industry Workers Outsourcing in Qatar with a Reputable Recruitment Agency
Qatar is keen on conducting a labor force survey on a quarterly basis, with the aim of getting accurate data on the size of labor in the country, the unemployment rate and the labor market needs, which paves the way for setting up plans and policies that are part of Qatar National Vision 2030.
As the country moves forward with its Vision 2030, B2C is always at your service if you need the support of the most trusted recruitment company in Qatar.
Looking for the best recruitment agency in Qatar? Partner with B2C Solutions for all your hiring needs. Get in touch with them by sending an email to business@b2c-solutions.com.
If you are a job seeker in search of jobs related to oil and gas, or actively looking for an immediate job, drop your CV to jobs@b2c-solutions.com.