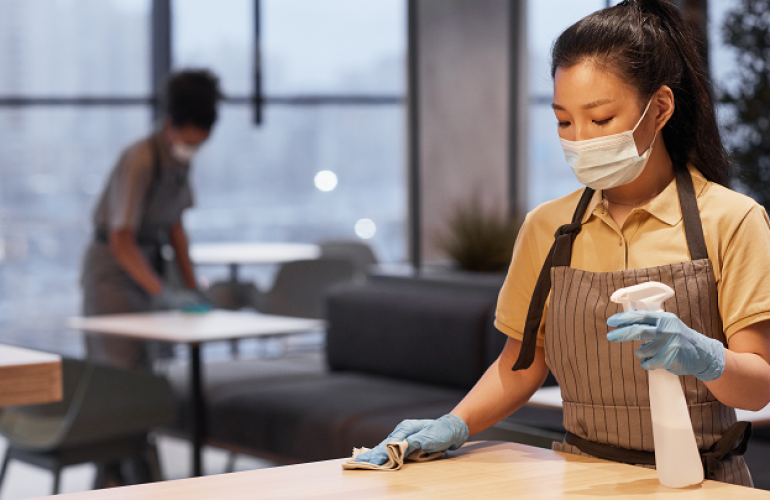 Do you need to recruit new employees for your cafe or restaurant? Consider hiring a staffing service in Doha for a fast recruitment process.
Expats and citizens in Qatar are picky when it comes to their food and drinks, especially now that the country is battling against coronavirus (COVID-19) pandemic. In these unprecedented times, excellent customer service is a top factor that most diners and consumers give credit for.
So, whether you have a large restaurant or a small and intimate bar in Qatar, good restaurant staff plays an essential part of the dining experience. They must practice the guidelines set by the Ministry of Publich (MoPH) to ensure everyone's safety against the virus in any commercial dining areas in the country.
To build a lasting relationship with your clients this pandemic, hire only the most qualified people who can help you achieve great results while adhering to the precautionary measures in place.
Seek professional support from B2C Solutions, a trusted cafe and restaurant manpower company in Doha, which knows exactly what you need to step up your game in the Food & Beverage (F&B) industry.
This recruitment and hospitality agency can help you if:
• you're preparing for an upcoming busy period
• you don't have enough staff to fill the gaps
• you're struggling to find someone at short notice
B2C's recruitment specialists are focused on recruiting permanent and contract roles for:
Cafe Staff
Cafe crew are multi-tasking. They prepare food while giving the best customer service. B2C only outsource skilled cafe workers who are carefully vetted by hospitality specialists who understand what you're looking for.
The agency ensures that every cafe employee it provides (whether temporary or permanent) has strong customer relations skills, and has proper food handling training.
Restaurant Staff
Wait staff, bartenders, hosts… you name it, and B2C can provide it for you!
Is your head waiter on a vacation leave? Has one of your team members called in sick? While the position may only be temporary, this can still have an impact.
If you need restaurant staff immediately, B2C's team of professional recruiters can help.
The company's roster of experienced and multi-talented restaurant workers ensure that your customers get the best experience.
Serving Staff
As customers' main point of contact with your business, it's important that your food and barrage attendants provide excellent service and make a great impression.
Fortunately, B2C only chooses the very best - you can be confident you're getting the right employees for your business!
Barista Cafe Staff
B2C screens applicants, including those who are applying for Baristas, on their knowledge of drinks and ensures that all of its bar are skilled and professional to perform their regular tasks.
Versatile Staff
As the No. 1 recruitment company in Qatar specializing in staffing solutions, B2C specifically chooses staff who can hop behind the register, work the espresso machine, prepare sandwiches and more in an instant and as per customers' demands.
In an in-depth interview, not all hospitality businesses conduct stringent reference checks. B2C can do it for you.
To avoid getting poor quality of staff, you need an expert cafe and restaurant staff recruitment agency in Doha.
Many hospitality businesses prefer getting skilled, knowledgeable temporary or permanent staff right off the bat, instead of being forced to go with the first application that comes across their Human Resource Department's desk.
Partnering with an outsourcing service in Qatar not only saves you money and time but also helps your business grow.
Looking for the best recruitment agency in Qatar? Partner with B2C Solutions for all your hiring needs. Get in touch with them by sending an email to business@b2c-solutions.com.