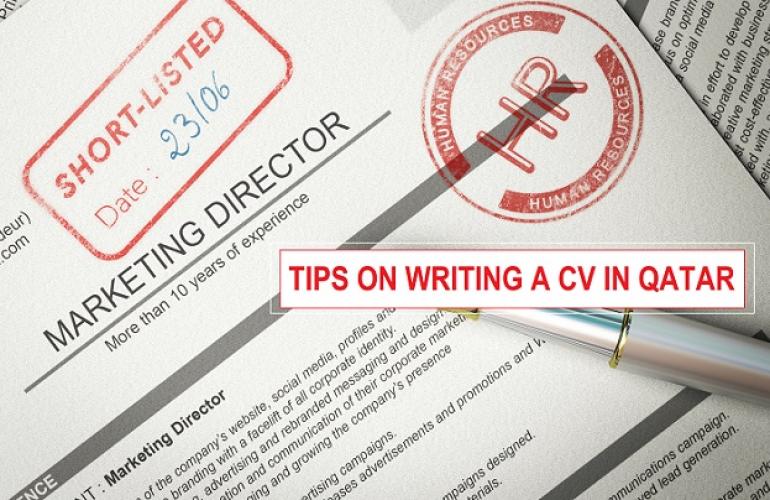 Planning to apply for a job in Qatar? You need a good CV or resume to get hired. But, what are the standard formats used in this country for any of these two documents?
This article will give you some tips on what job applicants submit to employers when applying for jobs in Doha.
But first, distinguish the difference between a CV and a resume as companies Hiring in Qatar have different requirements in the recruitment process.
What is a CV?
CV is derived from the Latin phrase "curriculum vitae," which means "course of life," is a detailed document providing a summary of your experience and skills. It also highlights your professional and academic history.
What is a resume?
A résumé or resume is a french word meaning "summary." It is also a document created and used by a person to present his/her background, skills, and accomplishments to secure new employment.
CV vs. Resume
Either of the two can be your most valuable tool to get to the job interview stage. Both give you a chance to show a prospective employer that you're the right fit for the position.
While both are used in job applications, they differ in length, layout, and purpose. A CV is more detailed than a resume.
CVs are mostly preferred in recruitment firms Hiring in Qatar and they are not very different from those in other countries. However, there are a few things you should keep in mind while writing one in Qatar.
| | | |
| --- | --- | --- |
| Title | CV | Resume |
| Length | Minimum of 2 pages, generally 3 or more pages | 1 or maximum of 2 pages |
| Information Included | educational and academic backgrounds, teaching and research experience, publications, presentations, awards, honors, and affiliations | skills, experience, and education |
| Ordered Chronology | needed | not needed |
| References | needed | not needed |
| Preferred Places | Middle East, Africa, Asia, UK, and Europe | US and Canada |
| Purpose | employment, academic, fellowships or grants, assistantships, internships, scholarships, fellowship applications | interview, potential employment competition |
| Authority | mostly academic institution | mostly business, industry, governmental, non-profit jobs |
| Employment History | full record of employment history | brief record of related employment history |
Tips on writing a Qatar CV
Structure
Tip #1 - It should look good at a glance. Make the first impression count. The moment the employer first sees it, he/she must be interested in a minute.
Tip #2 - Font should be readable. Try Arial or Times New Roman in size 12
Tip #3 - CVs required by employers Hiring in Qatar are at least 2 pages long. However, more experienced professionals could have up to 3 pages resume.
Tip #4 - Photos are optional. They don't influence the calibre of your CV. However, having a profile 2x2 ID photo is preferable than no photo at all.
Tip #5 - Begin with your contact information (including your name, phone number, and email)
Tip #6 - Tailor your CV to the specific job you are applying for. Be specific and honest. If your job has been redundant, be open about it. Managing change is also a skill worth highlighting.
Tip #7 - List your professional experience, starting with your most recent job (each position should have your job title, the company name, the dates you worked there, and a brief description of your duties and achievements)
Tip #8 - add information about your education (with details of any certificates or diplomas you have, along with any professional qualifications)
Tip #9 - Use metrics if you can to showcase your achievements as well as outcomes and impacts you've contributed to your workplace (sales targets achieved, exam scores, etc.)
Tip #10 - Show what you do outside of work too and include some of your interests (activities you've volunteered or community work gives a different perspective at the start)
Tip #11 - Include some other information that will set you apart from other candidates (the different languages you speak or what computer skills you have)
Tone
Tip #1 - Remember K.I.S.S. (Keep It Short and Simple) so it's easy to read. Use bullet points where appropriate.
Tip #2 - Make sure to check spelling and grammar. Avoid using overly complicated language
Tip #3 - Use present tense for your current job and past tense for previous jobs
Tip #4 - Be concise and sound professional. Keep it 'tight and bright.'
Tip #5 - Provide a summary of your experience and qualifications. Make this clearly and directly relevant to the role applied for. Add details which allow employers to see your other qualities.
Tip #6 - Do not include politics, personal opinions, or hobbies unless needed
Tip #7 - Do not list salaries or references unless required
Here are samples to give you a better idea of how a CV and a resume differ from each other: