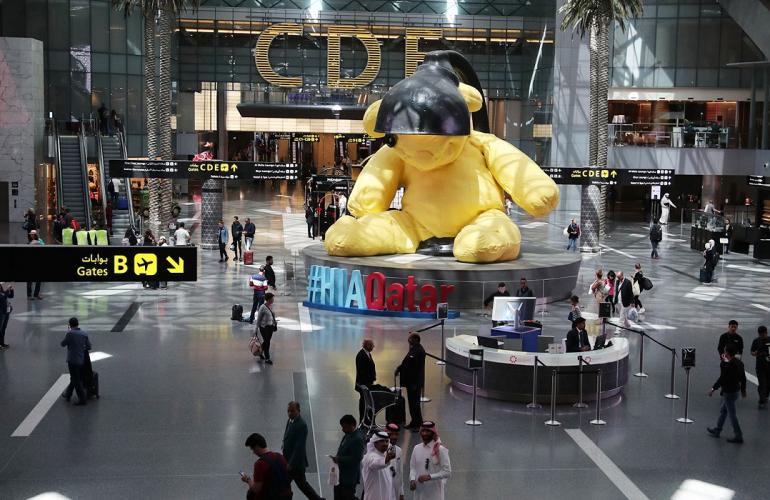 Qatar Travel and Return Policy
The Ministry of Public Health (MOPH) has announced updates to its COVID-19 Travel and Return Policy.
The new updates include an update of the country classification lists, adding Indonesia to the Exceptional Red ​List.
​​The below updated travel & return policy is applicable to all visitors and expats with jobs in Qatar. This comes into effect on Wednesday, 01 December 2021 at 6pm.​
​General Policy
Qatar has classified countries into two lists:
1. Green (for Green List Countries click here)
2. Red (for Red List Countries click here)
Exceptional Red Countries
In addition, there is a secondary list of Exceptional Red Countries (for the full list, click here) based on international and local health risk indicators and the epidemiology of Covid-19 in the different countries.
Different policies apply for those coming from SOME Exceptional Red List countries (listed below):
• Botswana
• Egypt
• Eswatini
• Lesotho
• Namibia
• South Africa
• Zimbabwe​
Travelers from one of the countries listed above are subject to a few actions, including:
Fully vaccinated and Unvaccinated Citizens:​​
These travelers will be subject to a home quarantine for 7 days upon arrival in the country, with the option to choose to undergo hotel quarantine if desired.
• Fully vaccinated and Unvaccinated GCC citizens:
These travelers will be subject to hotel quarantine for 7 days upon arrival in Qatar.
• Fully vaccinated and Unvaccinated residents of Qatar:
These travelers will be subject to quarantine for 7 days upon arrival as follows: hotel quarantine for 2 days and home quarantine for 5 days.
Other travelers from these countries are subject to a seven-day hotel quarantine. Visitors from these countries will also be quarantined for 7 days.
Note: As for non-immune travelers, they are not allowed to enter Qatar.
QID Holders
• Citizens and residents can travel abroad at any time provided that the travel and return policy is adhered to when returning to Qatar.
• The Ministry of Public Health advises citizens and residents to comply with COVID-19 health measures currently in place in the country of arrival.
• Travelers are responsible for keeping up to date with changes to the travel and return policy through official sources before planning to travel to Qatar.
• Travelers must comply with Qatar's COVID-19 procedures at all times to reduce the spread of COVID-19.
Non-Residents
Non-residents of Qatar must register via the pre-registration system for people entering Qatar ​on www.ehteraz.gov.qa website and upload all relevant documents such as vaccine certificates at least 3 days before arrival.
Are you coming to Qatar for work? Seek professional support from B2C Solutions and find more job opportunities in Doha instantly.
Pre-Registration to Enter Qatar
Although pre-registration is optional for citizens and residents of Qatar, MoPH recommends that all individuals entering Qatar may pre-register to ensure the best experience upon arrival in the country.
COVID PCR Test
PCR test results are no longer required during the electronic pre-registration process. Instead, travelers must present the original copy of the PCR test result to the airlines in order to allow them to board the plane, or at the country's ports (land and sea).
Travelers must take a PCR test result at a medical center accredited by the health authorities in the country of departure. The test result must be negative and must be done 72 hours before arrival in Qatar.
Note: MoPH has the right to conduct random examinations of travelers upon arrival in Qatar through its air, land and sea ports.
Ehteraz App
Travelers should download the Ehteraz mobile application and activate it on their mobile phones using a local or international SIM card.
Undertaking & Acknowledgement Form
All passengers must sign an Undertaking and Acknowledgement Form​ before arriving in Qatar. The form is available on the MoPH website, pre-registration platform website (www.ehteraz.gov.qa​) and airline online booking form.
Note: Citizens and residents who are fully vaccinated inside Qatar and who are arriving from one of the Green List countries are exempt from this requirement.
Quarantine
Travelers should check the quarantine policy for detailed guidance according to the country of arrival classification.
In the case of home quarantine, accommodation conditions must be appropriate, and if the property does not comply with the conditions mentioned in the undertaking, the traveler must book the hotel quarantine package through Discover Qatar's website before travelling to Qatar.
Note: Travelers arriving in Qatar should go to the COVID-19 test clinic at the access port in case of any COVID-19-related symptoms and take the necessary isolation measures.
These policies apply to arrivals across all Qatar entry points.
Below is a list of approved and conditionally approved vaccines by the Ministry of Public Health:
Approved Vaccines
1. Pfizer/BioNtech Vaccine (Comirnaty)
2. Moderna Vaccine (SpikeVax)
3. AstraZeneca vaccines (Covishield / Oxford / Vaxzevria)
4. Jansen/Johnson & Johnson Vaccine
Conditionally Approved Vaccines
5. Sinopharm vaccine
6. Sinovac
7. Sputnik V
For detailed guide on travel requirements and quarantine packages, visit the MoPH website here.
For more details about Qatar Travel Policy and Labor Law, visit www.b2c-solutions.com.
If you are looking for a reliable recruitment company in Qatar, contact B2C today.