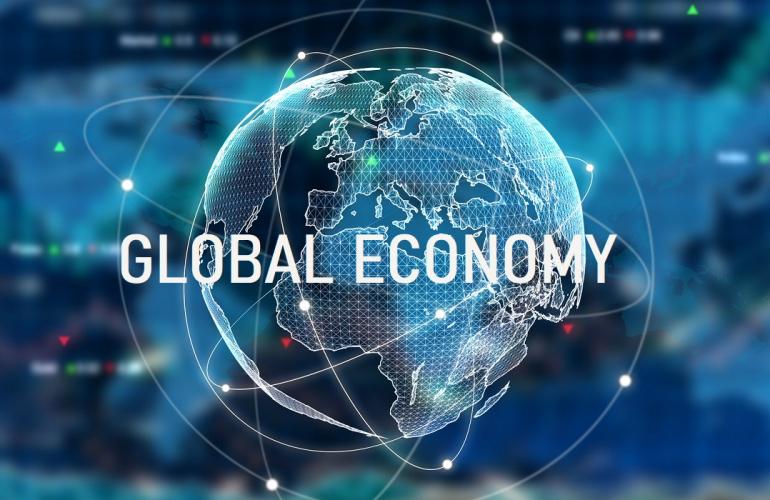 It would not be wrong to say the whole world rotates around money. Countries with stronger economies have a major influence on different issues in the world. Remember, the volume of a country's economy is usually determined by gross domestic product (GDP). This is the total market value of all goods and services produced in a country for a certain period, usually a year. Standard calculation of GDP in different countries helps to make a rating of the largest economies in the world. As of 2022, the United States and China have the largest economies on the planet. These two countries significantly outperform other countries in nominal GDP and GDP calculated using purchasing power parity (PPP). Let's have a look at the top 5 global economies.
1. America
Key Statics At A Glance
| | |
| --- | --- |
| Nominal GDP: | $22.9 trillion |
| GDP based on PPP | $20.93 trillion |
| Share in Global GDP | 24.4% |
America has held the status of the world's leading economy since 1871. In nominal terms, its volume amounted to $21.44 trillion. It is called an economic superpower. It makes up almost a quarter of the world economy and is characterized by developing infrastructure, technology, and an abundance of natural resources. 80% of the country's gross domestic product comes from the service sector.
2. China
Key Statics At A Glance
| | |
| --- | --- |
| Nominal GDP | $16.9 trillion |
| GDP based on PPP | $24.14 trillion |
| Share in Global GDP | 17.9% |
Over the past few decades, China has achieved exponential growth, overcoming the barriers of centralized closed trade. Now it is a manufacturing and export center, sometimes referred to as the"factory of the world." In 1980, China was in the TOP 20 on the seventh line with a $ 305.35 billion GDP. The US then had $2.86 trillion. Thanks to the reforms initiated in 1978, China increased 10% of GDP each year. Recently, these rates have slowed down, although they remain very high. In 2019, the growth rate was 6.1%. Gradually, by 2023, according to experts, it will decrease to 5.6%. Due to its large population, China is not among the leaders in GDP per capita —$17,192 (72nd place in the world).
3. Japan
Key Statics At A Glance
| | |
| --- | --- |
| Nominal GDP | $5.05 trillion. |
| GDP based on PPP | $5.31 trillion. |
| Share in Global GDP | 5.4% |
Japan, the land of the rising sun, is the 3d largest economy in the world. The 2008 financial crisis rocked this small country. It also faced weak domestic demand and huge public debt. In 2019, Japan's economy had surpassed the $5 trillion nominal GDP mark. It is believed that its economy will surpass $5.65 trillion in 2022. The Japanese economy has received an additional incentive for the 2020 Olympics, attracting investment to the host country. The Bank of Japan's tight monetary policy also contributes to the strengthening. In 2020, GDP per capita was $42,248 – the twenty-seventh figure in the world.
4. Germany
Key Statics At A Glance
| | |
| --- | --- |
| Nominal GDP | $4.2 trillion |
| GDP based on PPP | $4.49 trillion |
| Share in Global GDP | 4.5% |
Germany is not only the largest but also the strongest economy in Europe. It ranks fourth in the world in terms of nominal GDP. GDP at purchasing power parity is $4.49 trillion, and per capita - is $54,076 (16th place). In 1980, the German economy was worth $850 billion, enough for third place in the ranking.
Germany was heavily dependent on exports of capital goods, which increased the impact of the 2008 crisis. In 2016 and 2017, the economy grew by 2.2% and 2.5%. In 2018 and 2019 – by 1.5% and 0.5%. But in 2020, it fell by 4.9%. The launch of Industry 4.0 helps preserve Germany's economic strength. This is a strategic initiative to create a leading market and supplier of advanced manufacturing solutions for the entire world.
5. India
Key Statics at A Glance
| | |
| --- | --- |
| Nominal GDP | $2.71 trillion. |
| GDP based on PPP | $8.90 trillion. |
| Share in Global GDP | 3.1 |
India is the fastest-growing country globally, although it has been slowing down in recent years. In 2019, it took fifth place in the ranking. GDP per capita in this country is far from the leading position — $6,461. In 1980, the size of the Indian economy was only $189 billion (13th place). The economy grew by 6.8% in 2018 and 6.1% in 2019. In 2020, it dropped by 8%. Post-colonial India was a purely agricultural state but has significantly increased production and services in recent decades.
Today, services make up 60% of the economy and provide 28% of labor. The industry is the second most important segment and actively stimulates government initiatives. The agricultural sector accounts for about 17%, but this is still a lot compared to Western countries. India's current economic advantages are low dependence on exports, high demographics, and a growing middle class. That is why India is rightfully among the strongest economies in the world.
Although it this country is not included in the above list, several global organisations expect Qatar's economy to grow by more than 2% since 2021 according to the latest Qatar Economic Outlook Report 2021-2023.
The optimism by global organisations about Qatar demonstrates the strength and resilience of the local economy. The State's economy is expected to continue its growth momentum in the current year, despite challenges created by the COVID-19 pandemic.
Qatar's population may soon hit one million as a growing number of expatriates flock to the gas-rich country in search of jobs in Qatar and business opportunities, a local daily reported.
Are you coming to Qatar for work? Seek professional support from B2C Solutions and find more job opportunities in Doha instantly.
If you are looking for a reliable recruitment company in Qatar, contact B2C today.