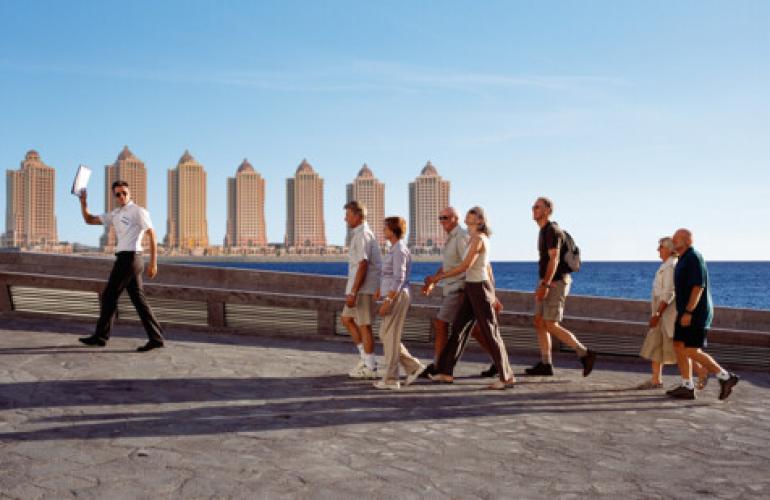 Working As A Tour Guide In Qatar: Qatar Tourism Offers A Helping Hand
Qatar is a dream destination for tourists across the globe. It is hosting the FIFA World Cup 2022. So a large number of people from different countries are likely to visit. As a result,there is a tremendous demand for tourist guides in the market. They help foreigners feel comfortable while touring Qatar, provide information about different places, and let them have a pleasant experience.
A Few Words About The Roles And Responsibilities Of Tour Guides
A tour guide is responsible for providing up-to-date information to national and international tourists about the main tourist destinations, their history, and their importance, helping them look for suitable hotels or restaurants, and taking all possible measures to let them feel safe while visiting Qatar.With the help of professional tourist guides, travelers can visit different locations in Qatar without facing any problems and have a pleasant moment. You need sufficient knowledge about Qatar, its main tourist attractions, and cultural values to work as a tourist guide.
Offers From Qatar Tourism:
According to an estimate,6 million visitors will likely visit Qatar by 2030. That is why Qatar tourism is encouraging interested individuals to become tour guides. The relevant department in Qatar will provide the necessary training and award an official license to eligible candidates. It will enable them to work with tourism companies in Qatar and provide their services to national and international tourists visiting the country's different parts.
A good number of individuals are applying for a tour guide license. Applicants should be 21 years of age and must have a valid Qatar ID to apply for the program. In addition, they need to have the proper knowledge of Arabic and English. Individuals with different language skills are also eligible to apply for the training session. They need to submit their application online on this website.
To encourage more individuals to apply for the training course,Qatar tourism will not take any fees for training, licensing, and exams.Therefore, it's an excellent opportunity for all those individuals who want to receive a certification from the Qatar Government and start doing a job as soon as possible. After successfully completing the training, they can work with any tour company in Qatar, letting travelers visit the country comfortably and have a pleasant trip.
Searching For A Job As A Tour Guide: Contact B2C Solutions
B2C Solutions is one of the best Outsourcing companies in Qatar.We have excellent collaboration with multiple companies and business organizations in the country. After completing your training session, get started with us without second thoughts. We have been providing top HR outsourcing services in Qatar for a long time ⏲️ and have helped many individuals get suitable jobs with prestigious companies.
You just need to share an updated resume, three passport-size photos, certificates of educational qualifications, work experience, and professional achievement certifications (if any).Our HR professionals will look for the availability of jobs per your profile and help you strike a perfect employment contract with a well-established organization in the country. Contact us today for more information.