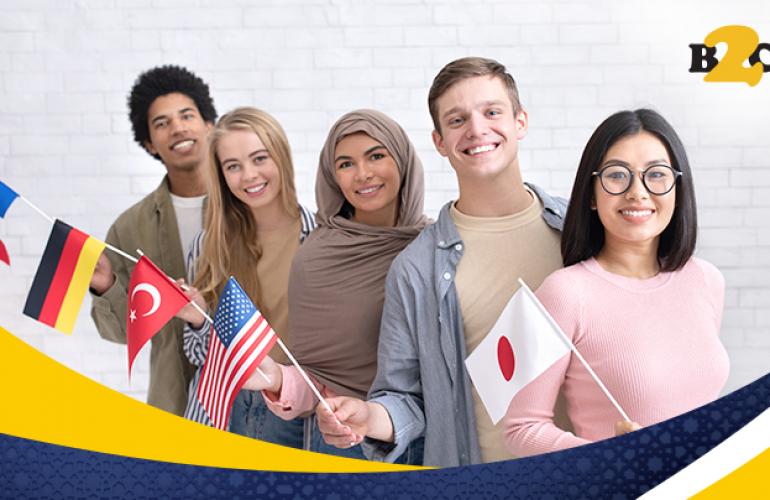 When they decided to work in Qatar, the first thing they had in mind was to ask around. They inquired, "How to get noticed by employers? What needs to be done? Where to start?" Then, they told them: There is "B2C Solutions."
Sure, they had second thoughts in the beginning. They knew very little about the hiring process in the country – applying, interviewing, and everything in between. But, with B2C, they found the answers to their job search.
At B2C, recruitment is fast and easy. – Send a CV. Talk to a recruiter. Land the job. – It's that simple. Job application for every step of the candidate journey doesn't have to be a time-consuming and exhausting process.
Too many frauds and misleading job portals and agencies stopping you from job hunting? No, pass. Career sites and recruiters should be a jobseeker's gateway to employment, not a life sentence.
Qatar Expats Have Spoken
Workplace diversity has become a top priority for B2C. Its talent acquisition strategies are designed to outsource diverse candidates.
B2C believes that every jobseeker, whatever nationality, has to find a job without going through a maze-like hiring process. These Qatar expats can attest how B2C helped them in their career progression and their confidence in this No. 1 recruitment agency in Qatar.
"Why Couldn't you get a job?"
"It hasn't been easy to find the right job. I keep on applying, but most of the time, I do not get a response. It seemed impossible to find a job. It's not that I don't have the technical skills or qualifications. However, I couldn't find a job that matched my skills and background. Also, after receiving so many rejections, I almost gave up because I didn't know what I was doing wrong. Something had to change! That's when I came across B2C solutions."
"How did B2C solutions help you?"
"I immediately contacted them to know more; they told me they could help me match my profile with the right company. I was excited, so I agreed, and we started the process. It was very straightforward; I provided my CV, the recruiter probed me for more information, and that's all it took to be on the B2C database. Soon after, I received a call from the recruiter informing me that there is a suitable position for me; she shared the job description and all the details with me – once I accepted, she started the process, and after a short while I had a job at a suitable company."
Are you ready for your next step up?
B2C's staffing solutions in Qatar are designed to flex with your needs. Recruiters you can trust and an agency that understands you – They will leverage their industry expertise and experience to help you reach your goals. You'll take over the most lucrative hybrid desk. You're guaranteed to succeed. Sounds great, right?
But, wait there's more!
B2C Solutions is here to help jobseekers – like you – to move ahead in your careers. You have the skills and knowledge and B2C has the networks and connections.
Smart Headhunting for Startups, SMBs, and Enterprises
At B2C, superior recruitment is an understatement. A leader in crowdsourcing talent and a people company, this outsourcing service in Doha simplifies recruiting, targets the right candidates, connects with proven talents, and hires fast with confidence.
Helping employers meet today's labor market challenges head on, B2C can find all your staffing needs, no matter how large or small. They will do the search for you. They will help you hire only the best.
Job done. B2C ensures all your job vacancies have been filled from your maintenance staff to your senior accountant instantly.
Innovation is at the core of its business. So, it is constantly searching for ways to improve, ensuring that it attracts only the best permanent staff in the market.
B2C is the best choice for all your recruitment needs. From Job Posting, Candidate Sourcing, to Employee on Boarding, this manpower agency in Qatar completes all your recruitment needs.
Reach more potential top candidates as B2C delivers your workforce requirements fast and easy. Let this expert team of recruiters support you in finding the right people to succeed!
Your Manpower Source and Workforce Solution
Looking for your next recruitment opportunity because your current role isn't the right fit? In a rush and got no time to browse through all of the jobs listed? Need help selecting a company? Looking to augment your team or set up a new one? If this sounds like you, get in touch with B2C and see the results at work.
Yes, you got it!
Meet the industry insiders for HR Consulting & Outsourcing. Choose the one with true expertise in recruitment. Partner with the Recruitment Company invested in your success. Now is the time to scale new heights or change the work environment. Supercharge your career with B2C!
Job search? Career advice? Hiring needs? Have questions? Ask a B2C Recruiter today.