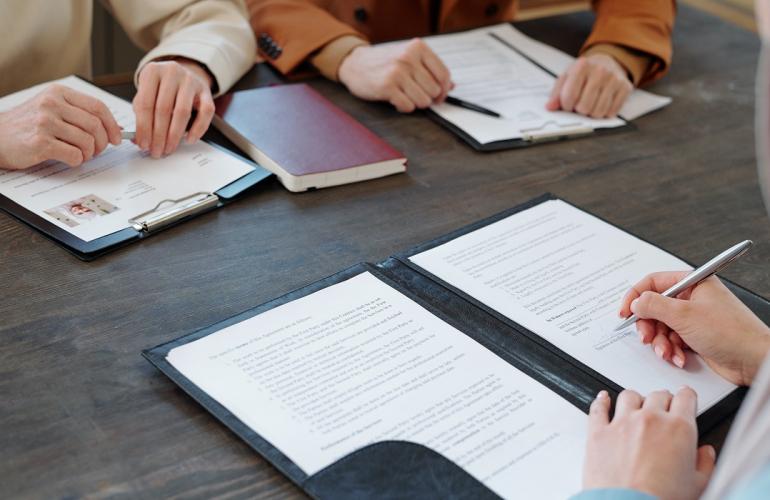 If you are an employer planning to recruit new employees in Qatar, there are certain steps to follow in the new process of recruitment in the country.
Here is the step-by-step guide in recruiting new employees locally:
1. Once the change of employer (requested by the worker) is approved by ADLSA, the employer will receive a confirmation SMS from ADLSA.
2. The employer is then responsible for filling the information of the employment contract with the new worker through ADLSA's Digital Authentication System for a Multilingual Employment Contract.
After filling the information, the employer should print the employment contract to be signed by himself/herself and the worker, and then will upload the signed copy with the other required documents onto the digital platform.
Upon ADLSA's confirmation that the employment contract has been authenticated, the employer must pay the fees for contract authentication and print the authenticated employment contract, which will be automatically sent to the Ministry of Interior's programme for ID issuance purposes. He/she must provide a copy of the authenticated employment contract to the worker.
3. The employer should log into the Ministry of Interior's Metrash services webpage to request a new Qatari ID card (QID) for the worker.
4. Once the QID procedure is completed, the employer should provide the new QID and the health card to the new worker.
If you are looking for a reliable recruitment company in Doha to manage your hiring objectives, B2C Solutions is the market leader in providing staffing services in Qatar.
Who pays for the administrative procedure required to change employers?
The administrative procedure required to change the employer is free of charge for workers. The new employer should pay QAR 60 to authenticate the newly signed employment contract.
To expedite the process of recruitment for your new staff, consult B2C, the best manpower company in Qatar, specializing in outsourcing services.
The latest recruitment procedures in Qatar are in line with the newly amended Qatar Labour reform.
This results in a free labour market with better job matching, where employers can recruit workers with the right skills to carry out the tasks and previous experiences in Qatar.
With this, there will also be a decrease in recruitment and repatriation costs through local recruitment. Furthermore, this will lead to an Increased job satisfaction with higher retention of workers.
For more articles about Qatar Labor Law and Recruitment in Qatar, visit the official website of B2C. For your recruitment and employment needs, contact its professional team of recruiters today.