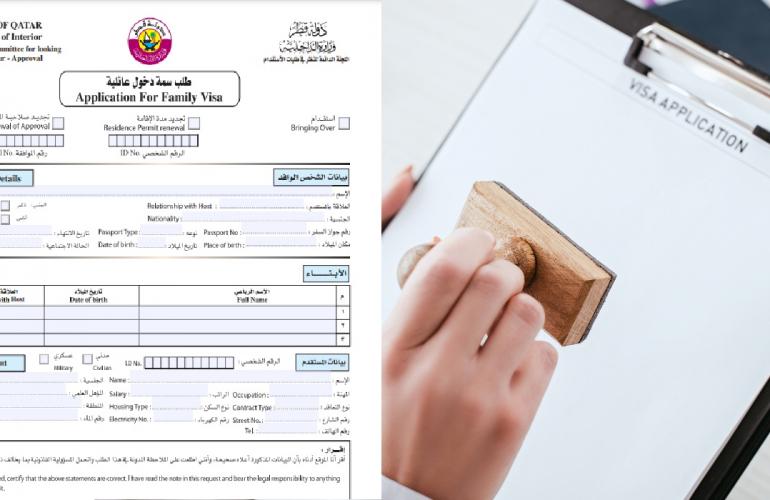 Are you planning to bring your family to Qatar? The good news is: You can now apply for entry visas for your immediate family members as the country is now accepting visa applications once again, after a year-long travel ban for non-residents due to the COVID-19 pandemic.
The Ministry of Interior (MoI) had earlier announced the resumption of issuing tourist and family entry visas, effective July 12, 2021.
This article explains the requirements, visa fees, and steps to apply for a Qatar Family Residence Visa and some tips for your family to land a job in Qatar.
Is it legal to bring your family to live with you during your stay in Qatar?
It is possible for you as a worker after acquiring a Residency Permit (RP) to apply for your family members (as specified below) to stay with you in Qatar on your sponsorship:
• spouse
• underage children
• male children (who did not finish their college up to 25 years)
• unmarried daughters
Read also: Can You Bring Your Family While You're Working in Qatar?
FAMILY VISIT VISA
What is a Qatar Family Visit Visa?
According to Hukoomi, a Qatar Family Visit Visa is a type of short-term visa that enables expatriate residents to bring their immediate family members and other relatives to Qatar for a short visit.
The visa is valid for 1 month and can be extended for up to 6 months for immediate family members (wife, sons, daughters) and 3 months for other relatives. Visa holders who wish to apply for an extension must undergo a medical check.
Note:
This is a short-term visa for visiting purposes only. If you are an expat worker who wishes to sponsor your family to live long term in Qatar, you should refer to the Family Residence Visa procedure.
Can Family Visit Visa Holders Work in Qatar?
Family Visit Visa can be converted to Family Residence Visa after submitting the same documents.
According to Hukoomi, Qatar's e-Government Portal, residents in Qatar who are under the sponsorship of their family members may submit a request to obtain a work permit at the Recruitment Department at the Ministry of Administrative Development, Labor and Social Affairs (MADLSA).
To request a work permit for those Sponsored by Family Members, click here. License Issuance fee is QR 500 and QR 60 for Contract Authentication.
Once you get your work license approved, seek professional assistance with the most trusted recruitment agency in Qatar to help your family member find a promising career.
Read also: Can Family or Tourist Visa Holders Work in Qatar? Here's a Guide from an Outsourcing Service in Doha
Are there current entry restrictions for family visit visas?
Yes. As per the new travel policy, people with family visit visas can travel to Qatar, provided they are:
✔ Fully vaccinated by an MoPH approved vaccine (with at least 14 days since the last dose)
✔ Exempted from quarantine requirements
What are the documents I need to submit when applying for a family visit visa?
If applying for Visit Visa for Wife:
• Husband's Qatar ID copy
• Husband's Passport copy
• Copy of attested marriage contract
• Copy of wife's valid passport
• Letter from husband's employer citing profession and salary
• Travel Insurance (new requirement)
• Flight tickets (new requirement)
How to apply for a Family Visit Visa?
Generally, all non-Qatari or GCC citizens entering Qatar need a visa. In most cases, applying for a visa is easy and can be done online through the following:
• Hukoomi - Qatar's eGovernment Portal
• Ministry of Interior (MOI) website
• Metrash2
Steps to Apply via Metrash2
Metrash2 now accepts family visit visa applications from more countries including India, Pakistan, Sri Lanka, Bangladesh, Philippines and Nepal.
Now residents can fill in the details and submit relevant papers through Metrash2.
Immigration Department Location
While many visas can be issued online, all travel documents can be processed at the General Directorate of Border Passports and Expatriates Affairs at the MoI. The head immigration department is located in Luqta Street (road to Qatar Foundation), just west of D-Ring Road.
FAMILY RESIDENCE VISA
What is a Qatar Family Residence Visa?
This type of visa allows a foreign worker to sponsor his immediate family members (like his wife and children) for a long-term stay in Qatar.
Note: This 1-month visa will allow your family to enter Qatar. However, other formalities like medical test and fingerprint have to be done after arrival.
Enable to sponsor your family, you must complete the following:
Eligibility Requirements
• Residency
- must have a valid Qatar ID and Residence Visa from your employer or private employer
• Profession
- must have completed 6 months of employment with your current company
- your profession as per your Qatar ID should be technical or specialized (non-labour).
Note: Expats who work in the labor category like drivers, delivery boys, cleaners, etc. may not be eligible to sponsor their family irrespective of their salaries.
• Salary
- must receive a monthly salary of QR10,000 or more
• Accommodation
- Those who have a minimum salary of QR 7,000 + free family accommodation can also apply (if family accommodation is provided by the employer)
Note: The salary requirements are in place to ensure that the sponsor is capable of supporting his family expenses like accommodation and grocery.
How to Apply for a Family Residence Visa?
Before applying for this type of visa, check with your employer to see if they can assist you in the process.
Note: Your employer is not obliged to process or pay for Family Residence Visas, but some companies support the process as part of their employment policy.
Option 1: Apply for Family Entry Visa online or directly
• Submit all necessary documents to get the visa approved.
Documents required:
1. A completed application form in Arabic, which you can download here.
Note: This document is not needed when applying online
2. Copy of your Passport (photo page + bio page)
3. Copy of your Qatar ID card (both sides)
4. Passport copies of all the family member applicants
5. Copy of Marriage Certificate attested by the following:
- Qatar embassy in your country
- Your country's embassy in Qatar,
- Qatar's Ministry of Foreign Affairs
6. Copy of Birth Certificates (for children) attested by the following:
- Qatar embassy in your country
- Your country's embassy in Qatar,
- Qatar's Ministry of Foreign Affairs
7. No Objection Letter (NOC) from your employer stating your profession and salary (in Arabic and dated within the last 3 months
8. Copy of Tenancy Contract attested by Municipality or letter from your employer stating that family accommodation will be provided
9. Bank statement of last 6 months to prove your salary credit and stamped by your bank
10. Copy of your Employer QID/Company Registration Card
11. Labour Contract stamped by the MADLSA
12. Copies of your attested educational certificates
Note:
• Items 10 to 12 may not be needed in some cases, especially for public sector companies.
• Have your documents like Marriage, Birth, or Education Certificate translated in Arabic.
• If you have adopted children, you need to provide statements and reasons for adoption.
Option 2: Let your family members enter Qatar on entry visas
• Bring your family on a visit visa for a simpler process.
Visa visa can be converted to Family Residence Visa after submitting the same documents.
Fees: Pay an additional fee of QR 500 if you are changing the visa without leaving the country.
Note: Since employees working with private companies are required to submit a 6-month bank statement, many people prefer to bring their families on a visit visa until the 6 months is completed.
Option 3: Apply for Family Residence Visa via Metrash
1. Access Metrash and click on the "Visa" icon
2. On the next page, click on the "Issue Visa" icon
3. On the next page, click on the "Family Visit" icon
4. On the next page, select the "Family Resident Application"
What if my family visa application is rejected?
You can visit the Gharafa Immigration Office and request a meeting with the visa approval committee to reconsider your application.
For more information on entry visas, visit the MOI's website.
JOB APPLICATION IN QATAR
Finding jobs in Qatar for your family is fast and easy if you know where to start and how to begin.
Read this article for your quick guide: How to Find Jobs in Qatar? Here are 5 Easy Steps!
Need to know more about finding jobs in Doha? An outsourcing service in Qatar can guide you through the whole recruitment process. Contact B2C today!